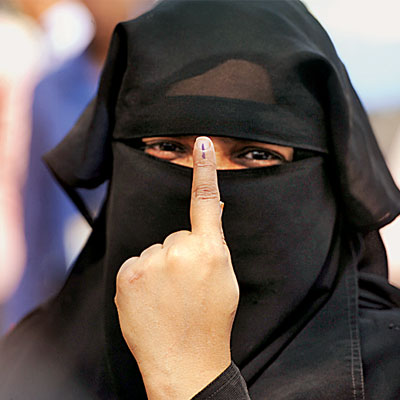 Standing outside Akbar Peerbhoy College in the Muslim-dominated Maulana Shaukat Ali road after casting her vote, Farzana Shaikh lists the woes that residents of her locality at Shuklaji Street have to face, with inflation leading the pack.
"The government which comes to power must tackle inflation," said Shaikh, pointing to how people were finding it tough to make ends meet due to rising prices and stagnant income.
However, ask her about the possibility of a Narendra Modi-led BJP dispensation coming to power, and her demeanour changes. "Modi must not be elected at any cost. The AAP is a good alternative to the Congress, but it may eventually divide the secular votes and help Modi win," said Shaikh, pointing to how for some in the minorities, the electoral battle may be dominated more by the binaries of secular versus communal and may eventually work in favour of the ruling Congress by helping it retain this crucial vote bank despite the anti-incumbency at work.
The Congress hopes that this strategic and tactical voting by the minorities against Modi, under whose watch the 2002 communal riots in Gujarat occurred, may help them retain their slipping ground in Mumbai and shore up its fortunes.
While some community members are vocal in their opposition to Modi and support for the Congress regardless of its "sins", some choose a dignified silence on the issue. Young and first time voters admit that despite their support for the AAP, peer pressure may have led them to vote for the Congress.
However, Muslims appreciate AAP chief Arvind Kejriwal's scrappy opposition to Modi, which they admit may swing some community votes towards AAP. "Kejriwal is doing a good job, corruption must be done away with. Today, people demand slush money even for normal government work," said Iqbal Ansari, while admitting that the wet behind the ears AAP may have to gradually work their way up.
"In this area, the M factor is at work," said a Maharashtrian Muslim activist of the MNS, adding that circulating photos and videos of the 2002 riots had led to gradual "slow poisoning" of the community's political consciousness, leading to opinions crystallising in favour of the Congress despite anger against its 10-year rule. While the AAP is seen as a vote cutter, the MNS may have lost some minority votes due to party chief Raj Thackeray supporting Modi as the prime minister. He added that money power played a formidable role in the polls.