Assist the sighted in navigating the 45-km car rally to raise funds for underprivileged kids.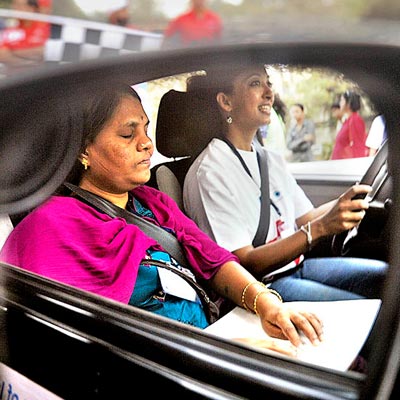 About a hundred visually-challenged persons assisted an equal number of sighted drivers in an annual car rally in the city on Sunday, to spread awareness about the consequences of illiteracy.
The rally was flagged off early by Yuva Sena leader Aditya Thackeray, fashion designer Shaina NC and ad man Prahlad Kakkar at the police ground at Worli. The cars drove to Babulnath, then on the Eastern Freeway to Chembur, turned around to Sion, went through Matunga and the 45-km rally culminated at the National Association for the Blind (NAB) at Worli Sea Face.
The event, conceptualised and hosted by the NGO Round Table India together with NAB, went off without any incident, proof of the skills of the visually-challenged navigators. The sighted participants were driving their private vehicles in the rally. Numerous passersby stopped to cheer the rallyists at various points along the route as the vehicle went by.
Many of them were obviously excited. For many of the drivers it was a unique experience to be driving with a visually-challenged navigator. The visually-challenged were emboldened that while they are usually asking for directions they could help the drivers.
Viral Kedia, convener, said, "The navigators who were assisting the drivers actually read the directions that were in Braille.Such events help our NGO in raising funds for schools for underprivileged children. It also helps us to spread awareness about education."
Such rallies are conducted across the country in January-February and this year 23 other cities have also organised the event. On Sunday, rallies were held in Delhi, Kolkata, Kochi and Ludhiana too.
Kedia expressed satisfaction at the response and the participation. The funds raised will be used to set up the schools for the underprivileged.