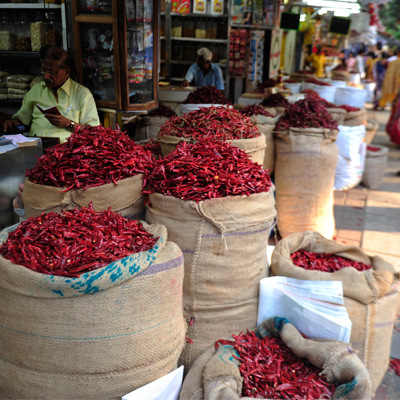 In India, it is said the poorer the community, the more chillies they consume because forced to drink abundant water to take away the pungency, they have to eat less. But with the humble chilly's prices spurting up by 50-55% this summer, looks like it too may soon vanish from the poor's thali.
Malamma Malepu, 34 a resident of a shanty settlement near the tracks in Kalwa East wonders what she should get to eat from home. "I just pound dry chillies, garlic and coarse salt and get it with ragi rotis. First we dropped the groundnuts because they became out of bounds and then the tamarind which we can't afford anymore. Now if chillies too become so expensive then what will we eat?" she asks. She brings two children all the way to Juhu beach to beg. "We can't afford to eat at the kiosks there. But sometimes people give us leftovers which we wait for."
But its not like the abject poor alone who are complaining. At the Mirchi Gully one of Mumbai's oldest markets Pradnya Pednekar when told that the Sankeshwari chillies known for their bite will cost Rs 150 per kilo rolls her eyes skywards. "Kaai he sona aahe ka? (What is this? Is it gold or what?)" She's come on her annual trip post-work to the Mirchi Gully to buy chillies, turmeric and garam masala. She's 1.5 kilos each of Kashmiri and Sankeshwari chillies. "The former gives the Malvani fish curry the right red colour and the Sankeshwari gives it the bite," she explains.
But why can't she simply buy branded packed masala powders available freely. "My ma-in-law doesn't like buying packaged masalas. She sits with the bai at the small grinding mill we have and gets the nicely sunned whole spices ground," she says with a wry smile Traders like Mulchand Shah, 55 who owns an establishment in the neighbourhood say, "We are being told that unseasonal rain, hail storms took a toll on the crop," and add, "Most produce arrives from Karnataka, Rajasthan, Gujarat, UP and Bihar and here rains played havoc in the flowering season."
Another trader who prefers anonymity says the price hike is just a way of making a killing. "No one wants to buy chillies once the rains set in because then the masala won't last the whole year and go bad. The agents and hoarders know that the buyer will crib but pay up."
Prices of various chillies
Patna 44 (last year) --- 80 (now)

Badgee 57.2 --- 110

Kashmiri 77 --- 140

Sankeshwari 82.5 --- 150

Lavangi 88 --- 160