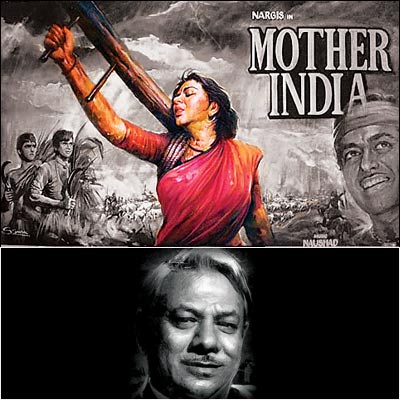 Nearly 18 years after a complaint was filed alleging forgery of will of Sardar Akhtar Mehboob Khan, widow of Mehboob Khan of Mehboob Studio, the magistrate has filed charges against Sardar Akhtar's niece and her accountant for forging her will.
The metropolitan magistrate, 37th court, on Monday framed charges against Jehenzeb Chinoy, Sardar Akhtar's niece, and her accountant Rashmikant Parikh under sections 467 (forgery of valuable security) and 471 (using as genuine a forged document) of the IPC.
The charges were based on a compliant filed by Sardar Akhtar's nephew Suhail Janjua. "If the charges are proved, they are punishable with up to life imprisonment," Janjua's advocate Ranjeet Pawar said.
Khan, a pioneer producer-director of Hindi cinema, best known for directing the social epic Mother India (1957), passed away on May 28, 1964. He left his legacy to his wife Sardar Akhtar. They had no heir.
Sardar Akhtar passed away in New York on October 2, 1986. She died intestate (without leaving behind a will).
Her legacy comprised 25 shares of Mehbood Production Private Limited i.e, the Mehboob Studio in Bandra, and a flat each on Marine Drive, Napean Sea Road and in Colaba. She had jewellery, diamonds and fixed deposits as well.
Sardaar Akhtar had two brothers Fazaldin (Janjua's father) and Firozedin (Chinoy's father).
It was in 1996 that Janjua realised that something was wrong when Chinoy claimed rights to their aunt's properties and moved into her flat in Shalimar on Marine Drive. Chinoy claimed that their aunt had left her everything by a will, dated January 27, 1983.
Janjua filed a private compliant against Chinoy and her chartered accountant before the metropolitan court in 1996, alleging forgery of Sardar Akhtar's will.
Pawar alleged that Chinoy forged the will with the help of her chartered accountant to claim sole right over their aunt's movable and immovable properties.
The magistrate directed the Colaba police to investigate and submit a report.
The police recovered the will submitted by Chinoy and sent it to a handwriting expert of the CID's state examiner of document. The handwriting expert said the will was forged and the signature in the original document wasn't that of the writer of the will.
The Colaba police filed this report, along with a detailed investigation report, before the metropolitan court in 1998. The magistrate issued process against the two accused — Chinoy and Parikh, advocate Ranjeet Pawar said.
The magistrate recorded statements of Janjua, the handwriting expert, the investigating officer and a panch witness. After considering all the evidence, the magistrate concluded there is sufficient material and evidence against both the accused and directed that charges be framed on both of them.
The metropolitan magistrate at Esplanade court on Monday framed charges of forgery of the will, dated January 27, 1983, of Sardar Akhtar on Chinoy and Parikh.