Along with NGOs, TMC makes attempts to save water this Holi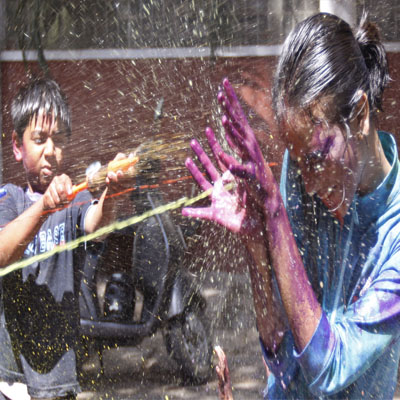 The non-governmental organisations (NGOs) are trying their level best to educate people to save water this Holi. Meanwhile, Thane Municipal Corporation (TMC), is also trying its bit to save water. Every year, TMC supplies additional water tanks to the housing societies but this year the corporation has decided to not give more water to residents, in order to ensure a dry. This has been done as many parts in Thane are facing water crisis. Sandeep Malvi, TMC PRO informed, "We are not going to give any additional water supply to residents in order to have a safe and dry Holi. Not only this, all residents are requested to use natural colours which do not not harm the environment." Many societies have agreed to this decision.
Ulhas Karle, chairman of Prestige Garden society said, "We have decided to celebrate an eco-friendly Holi. Committee members have convinced children and youth to play dry Holi and also use non-toxic herbal colours. Use of plastic bags and water balloons has also been strictly prohibited. Through holika dahan, the message of burning and abolishing social evils such as dowry, caste system, female foeticide and many more would be propagated among the kids and youngsters."
Women from Brahmand society were unhappy after learning that TMC would not give additional water tanks. Surabhi Shah said, "Holi is both about dry and wet colours but since we don't have surplus water, we will be forced to celebrate dry Holi this year." Residents from Happy Valley society have been celebrating dry holi since years with grandeur. Residents celebrate Holi followed by lunch. They are happy to learn that TMC has taken an initiative to ensure water-free Holi this year. To ensure a waterless Holi, TMC has also issued a circular to all the residential societies to celebrate a safe Holi by contributing in saving water. Both the society types which are suffering from water crisis as well as having abundant water supply have restricted themselves to celebrate a dry Holi. Sulabh Jha, a resident informed, "Much of the fresh water is wasted during Holi celebration. Hence, I support TMCs decision and now that summer has arrived, we will be facing water crisis. We should start saving from now for our future usage."