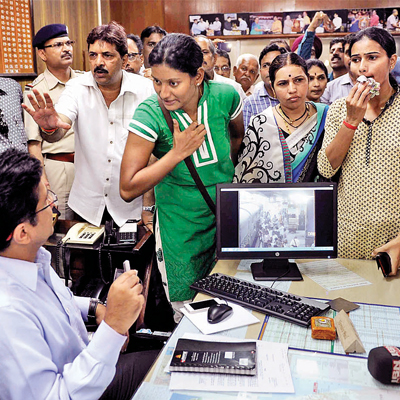 A day after being accused of being 'drunk' and 'pushing' a lady commuter trying to board the Kurla LTT-Rajendranagar Express at Jalgaon, senior Central Railway ticket-checker Sampat Salunkhe was, on Friday, granted bail on a personal bond of Rs 15,000 by the Bhusawal judicial magistrate court.
Salunkhe was arrested by Jalgaon railway police under IPC section 304-a (culpable homicide not amounting to murder) after Jalgaon resident Rahul Purohit had told cops that his aunt, Ujwala Pandya, had fallen through the gap and got killed after being blocked from entering the A1 coach of the train by Salunkhe, who was standing at the entrance. Purohit had also alleged that Salunkhe was 'reeking of alcohol' and had earlier 'promised' to upgrade the general class ticket of the deceased and her two children.
CR officials, who had defended Salunkhe on Thursday with a note of caution as he had not yet been produced in court, on Friday openly came out in support of their colleague.
On Friday afternoon CR issued a statement saying Purohit's allegations were not correct. According to the statement, "CCTV footage indicates that the conductor (Salunkhe) was helping her (Pandya). Unfortunately she fell down and got run over".
Refuting the allegation that Salunkhe was drunk, the CR statement said the "breath analysis test conducted on the TTE was found to be negative".
DNA report on Friday had mentioned that initial analysis had confirmed Salunkhe had not consumed alcohol.
Bad day in office
Ticket checker SG Salunkhe was arrested by Jalgaon railway police after a woman, Ujwala Pandya, fell through the gap between platform No. 3 at Jalgaon station and 13202 Kurla LTT-Rajendranagar Express. Pandya's nephew, Rahul Purohit, had alleged that she had fallen because Salunkhe was standing at the door of the coach making it impossible for her to board the train which had started gaining speed.