Police had to open fire to disperse villagers of Ghansoli village and residents of a housing colony who fought a pitched battle over an incident of 'eve-teasing'.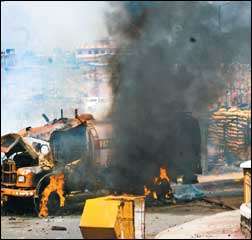 NAVI MUMBAI: Curfew was imposed in Ghansoli village, Navi Mumbai, on Thursday after three people were killed and more than 50 injured — four critically — in mob violence and police firing.
Police said a quarrel over an incident of sexual harassment on Wednesday turned violent with villagers and residents of the adjacent Simplex Colony attacking each other with swords, stones, and beer bottles. Many people, including policemen, were injured.
Tension, local people said, had been simmering between the villagers and the mathadi workers residing in Simplex Colony for some time. It boiled over on Wednesday after an unidentified girl from the village was 'teased'.
Enraged villagers pelted stones and damaged vehicles at the colony at around 1.30am. In retaliation, the Simplex residents stormed the village and set vehicles and shops on fire.
On Thursday morning, a meeting of the Simplex residents and Ghansoli villagers was convened by mathadi leader Narendra Patil to sort out the quarrel. But a mob from the village attacked Patil and his bodyguard Dnyandeo alias Chandu Bharugade (30) with swords. Both were injured. Bharugade died in hospital.
That sparked another rampage by the colony residents. Ten vehicles, including water tankers and motorcycles, were gutted. Iron rods, pipes and beer bottles were used freely. Police said it appeared that both groups had prepared well.
As the rioters' numbers swelled, police became sitting ducks for missiles from both sides. Several officers and constables were injured.
A history of violence
Tension has been simmering in Ghansoli between the 'sons of the soil' and the immigrant mathadis (porters). The mathadis, who were rehabilitated at Ghansoli by CIDCO two years ago, dominate the newly carved Airoli assembly constituency. Many of their leaders, like Narendra Patil and Shashikant Shinde (NCP), are keen to contest elections here. Shinde's Satara constituency is being deleted in the redrawing of constituencies.
But the Agri and Koli communities, which dominate New Mumbai and are its original residents, are bent on retaining the seat. This turmoil within the NCP is said to be one of the reasons for the clash.