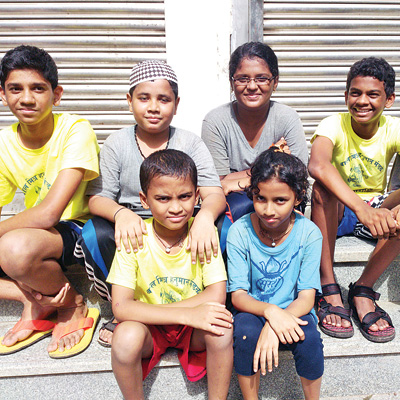 This year at dahi handi, Saurabh Kanade, 11, was very bored. Kanade just cheered and watched his team from a distance. Why? The Supreme Court recently directed the state government to raise the minimum age for participation in dahi handi celebrations to 12 years. Kanade was not the only one, like him there were many others, who now have to wait for a few years to experience the thrill.
Kanade, is a member of the Blue Star Pathak of Century Colony, Prabhadevi. "It's been three years since I had been breaking matkis. I have even climbed a six-layer pyramid. This year, I didn't do anything," he said.
For the Dalvi twins, it's not too bad. Prapti and Arya (10), and have been a part of Bal Mitra Hanuman Mandal in Worli. Prapti participated in the 10ft ladies dahi handi celebration, where there are just three layers. "My mom had asked me not to take part this year. She told me only to go with the ladies group. Last year, I had won Rs2,000 and received a trophy. I donated half of it to a temple and I partied with the remaining amount," she said.
Arya cannot wait to turn 12. That's when he can again participate in the festival. "I'll climb again when both of us turn 12. I'll just watch and dance the next two years," said Arya, who studies in Our Lady Of Salvation High School, Dadar.
It's but obvious that children are disappointed but they do understand the reasons behind such a move.
Mahesh Bhosale, Pranay's father, who belongs to the Jari-Mari Mandal, Girgaum, said, "My son has been a part of the human pyramid for the past four years, however, this year after the apex court's ordered, our mandal did not allow him to participate. The mandal also conducted a thorough check regarding their age via birth certificate and only then did they allow them to participate."