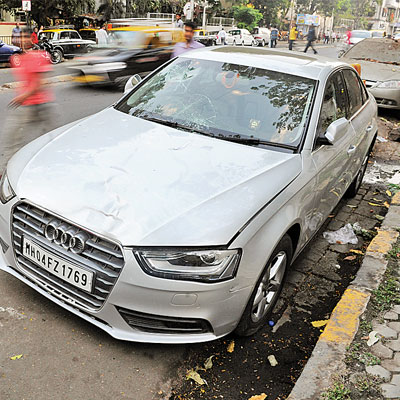 A man believed to be in his early 30s died after a speeding Audi knocked him down on Pedder Road on Wednesday night. The driver fled from the spot leaving behind the vehicle, the police said.
While the victim's identity is yet to be established, the Gamdevi police have registered a case under the Indian Penal Code and Motor Vehicles Act and launched a hunt for the driver.
Around 11.55 pm, a pedestrian was crossing the road outside Cumbala Hill Telephone Exchange when a silver Audi bearing registration number MH-04-FZ-1769 lost control and rammed into the man.
A police officer from Gamdevi police station said, "Due to the impact of the collision, the victim was tossed in the air. As came down, he was once again hit by the car. The second crash resulted in the windshield of the car developing a crack."
Instead of helping the injured person, the driver of the luxury car fled from the spot, leaving behind the vehicle, said the officer.
A passerby spotted the victim in a pool of blood and alerted the police. "The man was profusely bleeding and was alive when the police reached the scene. He was taken to Nair Hospital but was declared dead on arrival," said the officer.
Doctors at Nair said the man had sustained multiple injuries to his skull and torso.
The police found nothing on the deceased that could help them ascertain his identity. "He was probably in his early thirties and appeared to be from a middle-class family. There is a good possibility that he lived somewhere nearby had come down for a stroll or to get something," said the officer.
With the help of the Audi's registration number, the police are trying to trace its owner. "We have received information that a certain Javed was behind the wheel. There are no CCTV cameras at the spot. Further investigations are on," the officer added.