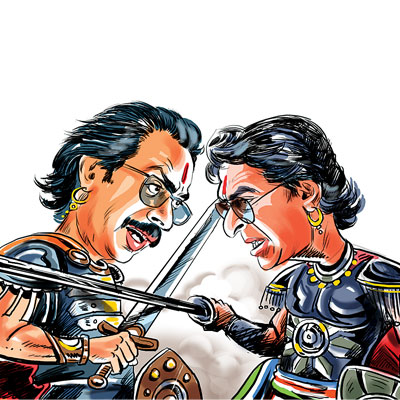 The frontal attacks against each other by the estranged Thackeray cousins have widened the cleavage between the two and nullified any possibility of a rapprochement between Shiv Sena and the MNS.
Sena president Uddhav Thackeray, and Raj Thackeray who heads the rival MNS, are seen as competing for the legacy of late Sena chief Bal Thackeray. This is the first election where Sena and MNS will test their strength in Thackeray senior's absence and hence the stakes for the warring cousins are huge.
Raj, who is more of an archetypal Shiv Sainik, is projected as his uncle's natural heir as against the mild-mannered Uddhav.
In Pune on Monday, Raj blamed Uddhav for his decision to quit Sena in 2006 and alleged that BJP leaders had told him that Uddhav's rapprochement moves were superficial.
In what could touch a raw nerve with sainiks, Raj also pointed out that the Sena, which controls the BMC, had not been able to procure land for the late Sena chief's memorial and that a Sena delegation had met NCP chief Sharad Pawar—whose inclusion in the NDA the Sena had opposed—regarding the memorial.
On Tuesday, at a rally in Mumbai, Uddhav charged that Raj's criticism was a "trap set by the Congress" to provoke internecine fight in the Sena and asked his cadre not to be carried away. Uddhav said he had never gone to the government with a "begging bowl" to seek land for the memorial, and added that on Balasaheb's first death anniversary, Pawar himself had volunteered to provide land.
"Your (Raj) house is located just opposite (Shivaji Park), but you did not turn up (for the anniversary)," said Uddhav. He also took a swipe at Raj the builder, and questioned as to why Raj had been waiting for his call (for rapprochement) if he had indeed quit the Sena because of him.
In his interview in Saamna, Uddhav said Modi and BJP president Rajnath Singh had assured him that MNS would not be included in the alliance in Maharashtra. He questioned why Raj had not fielded candidates against the BJP and was fighting largely where the Sena was contesting against the NCP.
Raj has only declared a list of 10 candidates so far. Of this, only two, Deepak Paigude (Pune) and Suresh (Balyamama) Patil (Bhiwandi) take on the BJP.
Uddhav, who had attacked former BJP chief Nitin Gadkari for reaching out to Raj, tried to underplay reports of a Sena-BJP rift, and said the recent tension between the two parties was "because of one individual." He also stressed there would be no "division of votes" in the state as there was a strong anti-Congress and pro-NDA wave here.
"Raj's goal seems to be to corner Shiv Sena," claimed a Sena leader. According to him, any possibility of a rapprochement would arise only after the assembly polls if the MNS could help tip the scales for the Shiv Sena-BJP combine in case of a hung house.
"People feel Raj is the culprit (in splitting the Sena). He, however, has been explaining how he had been compelled to quit," said an MNS leader, adding that the Sena leadership was making any understanding difficult.
In 2009, MNS fought in 12 seats and the split in votes led to Sena-BJP nominees losing in nine. However, this time around, sources feel MNS not fielding candidates in some constituencies, especially in Mumbai, could lead to a drift within its cadre.
dhaval.kulkarni@dnaindia.net