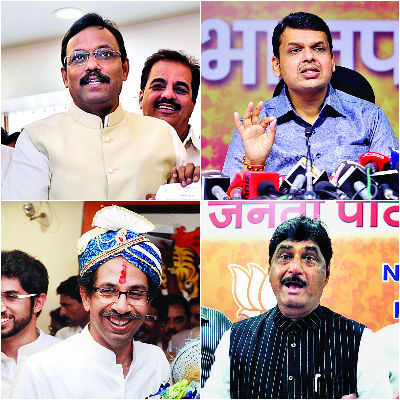 The war drums in Shiv Sena and BJP over who will stake claim to the chief minister's chair if the five-party Mahayuti comes to power are on an overdrive, even though there are a few more months to go for the assembly elections.
BJP, riding on the Modi wave, wants to replace Shiv Sena as the dominant partner in Maharashtra. It's hence seeking a larger share of seats in the assembly and consequently the CM's chair.
While Sena is pitching party president Uddhav Thackeray as its CM nominee, BJP feels it has many leaders like rural development minister Gopinath Munde, leader of opposition Vinod Tawade and state party chief Devendra Fadnavis, fit for the job.
On Monday, Sena took a swipe at BJP and its chief ministerial aspirants, pointing out that regardless of their aspirations, PM Modi would have the final word on the issue.
"Presently, a game of kaun banega mukhyamantri (who'll be the CM) is being played out in Maharashtra," said an editorial in Sena organ Saamna, pointing to how BJP had been speaking its mind out on the issue.
The editorial points to Fadnavis' statement that Munde had been loaned out to Delhi for three months and would be brought back.
"Munde has said in the past that he would like to be the CM, and like Sharad Pawar, he seems to be 'physically in Delhi, but mentally in Maharashtra'" says the editorial, adding, though Fadnavis was the state party chief, leaders like Tawade, Eknath Khadse and others had said they would fight the polls under Munde's leadership.
It also praises Fadnavis, saying he had proved his mettle in the Lok Sabha polls in which BJP got 23 seats, and was instrumental in Ramdas Tadas' victory in Wardha over Sagar Meghe of Congress.
The editorial notes how BJP workers had coined slogans like "Narendra at the Centre, Devendra in the state," and Munde too "with a large heart" had upheld this slogan, which had led to many in his party getting the jitters.
The editorial questions if Modi was in agreement with Munde and Fadnavis pushing each others name. It notes how Modi had entrusted Munde with the rural development portfolio and pointed to how he (Modi) had an upfront style of working.
"Munde, Fadnavis, Khadse, Tawade may have reached a consensus, but Modi's opinion will determine the majority, after all," says the editorial.
Raut pitches for Uddhav
Meanwhile, Raut has pitched for Uddhav as Sena's CM candidate. "Uddhav has never said he wants to be the CM... Sainiks say so," said Raut, adding that Uddhav should lead the government to "fulfil (late Shiv Sena supremo) Balasaheb Thackeray's dreams."
Raut also points out that the seat-sharing pact between the allies had clearly laid down that while BJP would get a larger share of the pie in LS polls, Sena would get the CM's post. In 1995, when Sena and BJP had their first, and so far, the only shot at power, Sena's Manohar Joshi was the CM with Munde as his deputy. Joshi was later replaced by Narayan Rane, who is now in the Congress.
Raut says BJP had not formally communicated to them any demand for a larger share of assembly seats. In 2009, Sena fought in 169 seats and BJP 119. This time around, Sena and BJP will also have to set aside seats for allies like RPI (Ramdas Athavale), Swabhimaani Paksha (Raju Shetti) and RSP (Mahadeo Jankar).