Over two dozen kids are growing up inside the women's prison in Byculla as their mothers, including many foreigners, await trial. Officials attribute absence of caretakers, unwilling relatives to this state of affairs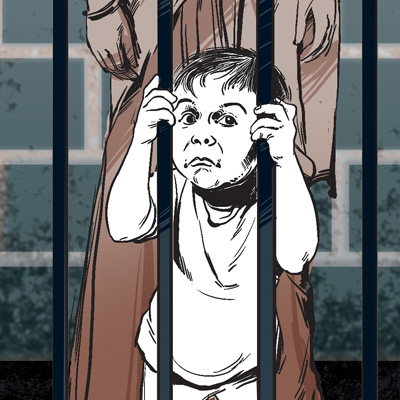 When a heavily pregnant Diana Musga was sent to India with a consignment by a drug cartel, the South African national thought her condition won't raise suspicion among the authorities. But she wasn't that lucky. She was busted at the city airport.
Arrested under the Narcotic Drugs and Psychotropic Substances Act in 2011, Musga landed in a city jail and delivered a baby girl few days later. For her daughter, the world so far has been her mother, other inmates and their kids.
Within the confines of the Byculla women's prison, a guarded building with high walls and barbed wires, sits a balwadi – a civic-run nursery. For three hours every day, the one-room structure and its vicinity turns noisy with boisterous toddlers milling about.
Besides the spot of high decibel, most part of the jail appears sleepy as prison staff and the inmates get busy with their routine jobs. After sunset, silence completely takes over the premises once the kids are back in the barracks with their mothers.
Nearly 25 children, including Musga's daughter, between the age group of newborn to six years are growing up as their mothers, who have been arrested for various criminal offences, await trial.
Officials say children are put up in the prison for reasons such as – there are no caretakers outside; the mother being the only parent; relatives unwilling to act as guardians. Byculla apart, a women's prison in Kolhapur is the other jail in Maharashtra that has facilities to accommodate kids.
"The children count keeps changing as prisoners are either moved out or children grow older and then they have to be moved to state-run children's home. Some lucky ones are taken by their family members," said a senior jail official.
At the moment, majority of the little souls belong to inmates who hail from Bangladesh or African nations. These women are here for their alleged involvement in offences like drug peddling, overstay or flouting rules under the Passport Act.
Jail officials insist the kids are in no way treated like an inmate. They follow a nutrition plan prepared by an expert committee comprising paediatricians from the state-run JJ Hospital. The kids are given milk, bread, butter, fruits and dry fruits, say the officials.
Several NGOs organise workshops and activities under the government scheme Ekatmik Balvikas Prakalp are conducted for the betterment of the children. They are taught reading and writing in Hindi and Marathi, six days a week between 9 am to 12 pm.
A children's play area is also nearby where the kids can spend time but they have to be inside the prison with their mothers after sunset.
As for medical facilities, officials say, the children are screened regularly by the paediatricians at the prison hospital. Doctors from state-run hospitals too visit the facility. If required, psychological tests are also done on them.
An official said, "We ensure that absolute freedom is given to the children. But being in a prison they are deprived of family atmosphere and liberty that other kids enjoy outside."
Meanwhile, Musga continues to stare at an uncertain future as her mother's trial started on Wednesday.