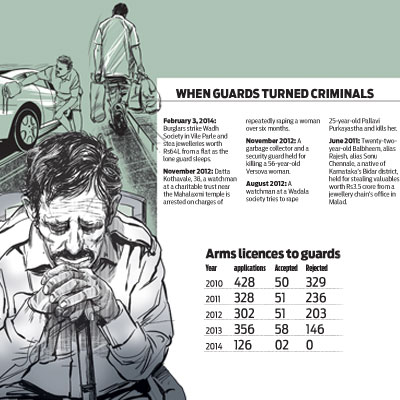 Security guards and watchmen sleeping while on duty is a common sight across housing societies in the city.
Obviously, the sight evokes anger and anxiety among residents. But these men may not be entirely at fault, because most of them are forced to work double or even triple shifts to make some extra buck. They are generally an exploited lot, with agencies that employ them paying them near to nothing. And they have no weekly offs either, and each shift lasts 12 hours or more!
There are 22,000 registered security guards in Mumbai, and around 3,200 registered private security agencies. Of these, around 1,700 agencies are currently functional and 19,406 security guards have been posted in various societies and commercial offices across the city.
Majority of the security guards are migrants who come to Mumbai in search of job. "These people are exploited by security agencies. They are made to work double or even triple shifts, but are paid a measly salary of Rs 5,000-6,000 a month. They should be paid much more," said a senior private security guard.
According to insiders, agencies charge offices and residential complexes on the basis of the number of security guards posted. "While the agreement entered into is to post four guards, only two are posted, and they are made to do double shifts," said a source.
Moreover, since these guards are poorly paid, they themselves volunteer to do double or triple shifts to earn extra money. "And because they work continuously without rest, they end up sleeping, especially during night shifts," said a security guard.
According to Anand Mishra, a resident of Malad, "Residents in most societies use their security guards for doing household chores like fetching milk or to run small errands."
Om Prakash Dube, a guard employed with a large security agency said, "I get Rs 6,000 per month, which is very inadequate, and we are never paid on time either. Often, they pay us after two to three months. We have no medical or provident fund (PF) facilities. If we approach the higher authorities in the agency, they never pay heed to our demands."
Another guard, Ramesh Singh, said: "I have not got my salary for the past two months. I have been promised that I would be paid next month, which means I will get my salary after three months. Even then, they will not pay me all my dues; they will withhold part of the salary saying I may quit and go away if I am paid my full salary."
The minimum salary of a security guard should be in the range of Rs 12,000 to Rs 15,000, and they should be given benefits like PF and medical expenses," said Akhilesh Tiwari, owner of a security agency in Sakinaka.
"Housing societies are not ready to pay high amounts for security guards. Because of this, agencies do not follow the basic norms for employing security guards. They supply manpower without making adequate background checks; these guards are not provided proper training either," said the owner of a security agency.
But it's a well known fact that owners of many agencies make huge profits by underpaying their guards and charging exorbitant amounts from societies. A Chembur society forks out Rs 45,000 a month to a security agency to supply it six guards. However, the agency deploys only four guards, and each of them is paid Rs 4,000 a month. "Little wonder then that these guards have no motivation to work. This, in turn, weakens security," R. Natarajan, an office-bearer of a housing society, observed.
Police inspector Rajendra Kane of Bandra station said: "There are several agencies that play with the lives of people by employing guards without getting a police verification done. Even societies do not bother to inform the local police about it. And several incidents such as house break-ins, robbery, murder and rape in which security guards were involved have come to light."
BC Jha, general secretary, Bhartiya Suraksha Rakshak Union said: "There are around seven lakh security guards in Mumbai and Thane district. The government should conduct a survey on this. The licence of any private security agency found to be violating norms should be revoked. Most private agencies have more guards than they are entitled to. Only the entitled guards get salary as per government norms; others are paid much less and get no other benefits."
Nandatai Bhosale, general secretary, Maharashtra Rajya Suraksha Rakshak and General Kamgar Union, said: "Government officials who have been appointed to oversee private security agencies and their guards, don't do their job properly."
"And if security guards decide to complain to the union about their problems, security agencies remove them from service. So, not many guards come forward to complain," Bhosale added.
"We have given a proposal to the department concerned to set up two different boards for Mumbai and Thane. More government staff should be appointed to supervise private security agencies. They should see to it that security guards are paid proper salary and benefits," said Resham Jha, president, Bhartiya Suraksha Rakshak Union.