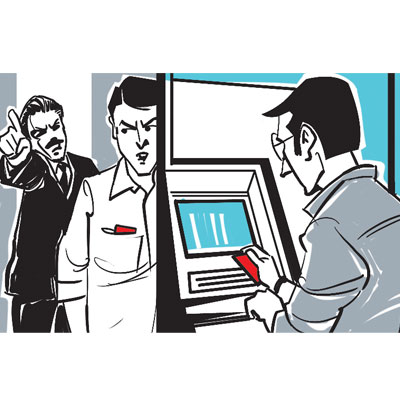 A young office boy is accused of misusing a company debit card to withdraw about Rs17 lakh since he was sacked in October last year.
According to a complaint registered with the NM Joshi Marg police, the employee, Valmiki Ajit Ramdas, allegedly stole the debit card and a slip mentioning the PIN from a cupboard in the office of the investment company at Lower Parel where he was working.
He had been working with the firm since 2006, but his service was terminated after company officials learned that he was trying to steal an office mobile phone.
After the 24-year-old lost his job he apparently withdrew cash 177 times from various ATMs in Uttar Pradesh till May this year.
"On June 2, a company staffer received a call from a person identifying himself as Harpal, saying that Ramdas had been withdrawing money using the company debit card," said a police official.
It was then that the owner of the company, Sandeep Murthy, checked the status of the account and he was told by bank officials that a total Rs17 lakhs had been withdrawn from October 10, 2013 and May this year.
Murthy, 37, lodged a complaint with the police on June 9. "We have registered a case of theft against Ramdas. Preliminary investigations have revealed that irked at being sacked, he stole the debit card and the slip with the PIN number and used this 177 times to make withdrawals," the police official said.
Ramdas is a native of Ujjaini Kalan in Gonda district of Uttar Pradesh.
The police are baffled at how the company remained unaware of the withdrawals. "We will inquire as to whether the company used the account regularly or not and whether the SMS alert service of the bank was activated," the official said.