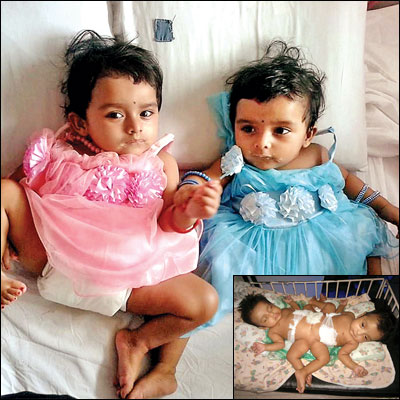 There was much jubilation in the air and ample reason to celebrate too. It was the first birthday of the conjoined twins, who were separated earlier this year at the Wadia Children's Hospital in Parel.
Born fused at the buttocks on May 6 last year, twin girls Riddhi and Siddhi have come a long way since. They have undergone a string of surgeries. Their ordeal is far from over, however. Three more operations await them.
On May 9 last year, dna had told the story--'Saved from Sacrifice, will conjoined twins survive?--about how a gutsy village woman, Reshma Khatri, had saved the conjoined twin girls from being sacrificed by their orthodox family in Olawa village at Panvel.
They were separated on January 17 and have since been recuperating in a special room of the paediatric ward in the hospital. They can now sit with support. Each of their legs is, however attached to their hip at a 90 degree angle, because of which it's impossible for them to walk.
"The twins are slated to undergo an orthopaedic rotation surgery in June. External fixators (metal pins) will have to be attached to the legs of each baby to reposition the widened legs," said Dr Pragnya Bendre, paediatric surgeon at Wadia Hospital.
Doctors expect them to take the first baby steps by the time they turn two. Both pass urine and stool through temporary outlets created by surgeons near their vagina. "After the orthopaedic procedure, a fifth surgery (reconstructive plastic surgery) will be conducted to model their vagina and rectum," said Dr Mini Bodhanwala, CEO at Wadia Hospital.
Riddhi and Siddhi fall in the Ischiophagus twins category. Such twins are symmetrically conjoined at 180 degrees. There are hardly 6% of such twins in the conjoined variety.
At birth, they shared a common uterus and urinary bladder, which the surgeons deftly cut into two halves. "The set of nerve connections or the nerve plexus surrounding the commonly-shared organs was very dense. To separate and halve the common organs was a challenge. We ran the risk of one of them losing its life or being rendered disabled. Thankfully, the worst phase has passed," said Dr Bodhanwala.
According to a 2010 study in Journal of Paediatric Surgery, the estimated rate of conjoined twins is one per 1 million live births.
Wadia Hospital has spent close to Rs 20 lakh in the past one year for surgeries, imaging tests, medication and accommodation of the conjoined twins. "An anonymous person donated Rs two lakh. Many trusts and donors have contributed to the cause," Dr Bodhanwala told dna.
The babies parents, Shalu (20) and Arun (27), were not present at the birthday bash. Shalu's fourth baby is due next week. "The family has decided she will deliver at home. They are extremely orthodox. Arun is a daily wage worker and cannot afford to stay in hospital. We will take care of the babies until they are medically fit to be discharged. They are our responsibility," said Dr Y Amdekar, dean, Wadia Children's Hospital.