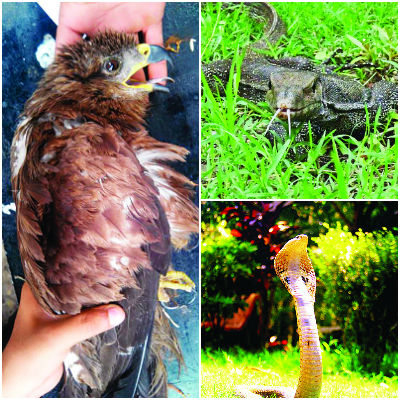 Most of them are college students juggling classes with a job that most would never think of doing. And they have a soft corner for some creatures who would scare the living daylights out of most of us.
But the single-minded determination of the members of Resqink Association for Wildlife Welfare (RAWW), has helped them achieve a remarkable feat.
RAWW, an NGO which operates in the central suburbs, has rescued 80 reptiles and birds in just 2 weeks (August 1 to 15). Not just that, they ensured that all of them were released back into the wild. Those rescued include a barn owl, a cobra, a monitor lizard, a black kite, a little egret and a Russell's Viper from areas between Mulund and Ghatkopar. Thirteen of the snakes were venomous.
Pawan Sharma, founder and president of the now 2-year-old RAWW, is very proud. "We have a 12-member rescue team which works round the clock. Most of us are college students, so we juggle our classes with rescue calls. But we have a schedule to ensure that two members are always available. Between August 1 and 15, we rescued 80 reptiles and birds, including 62 snakes," he said.
The NGO works in tandem with the forest department. Whenever they rescue an animal, they first get it registered with forest officials, treat it for any injuries, and then release it back into the wild. "We do not reveal the location of release since people then tend to go there and look for the animal. Many people get scared, while others try to catch the animal. We get a lot of calls from housing societies. People get our number either from the forest department or the fire brigade or social networking sites," said Pawan.
The team is always equipped with a snake bag to trap the snake, stick tongs to catch hold of it but prevent any injury, and a first-aid kit to treat an injured animal or a human bitten by the animal.
Here are a few of the animals RAWW saved, who are currently living it up in the wild!
1) Spectacled Cobra (highly venomous): The reptile was rescued from a society in Mulund.
2) Monitor Lizard: Rescued from Sanjay Sunil society, near Devidayal Road, Mulund West.
3) Bamboo Pit Viper (venomous): Found in the slums of Shastri nagar, Mulund West
4) Buff Striped Keelback: Found in a residential society near Bhandup station
5) Common and Montane Trinket: Common trinket rescued from the passage of MHADA colony Mulund East. Montane was rescued from a row house in Mulund colony
6) Barn owl: Was being chased by crows in the GKW Workers quarters, Bhandup West
7) Black kite: Found in Emco company, Thane West, was treated for injuries
8) Russell's Viper (venomous): Was rescued from Nimkar Society, Malabar Hills, Mulund West