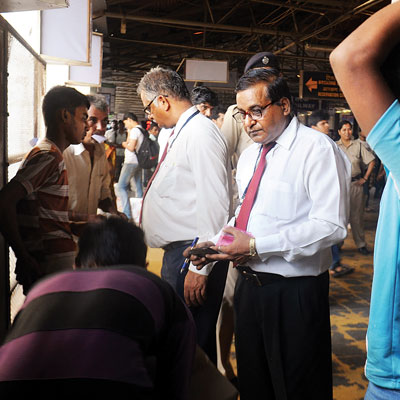 This city sees some 75 lakh people travelling by suburban trains every day. And at peak hours, each train carries nearly 5,000 commuters. How do authorities then ensure that those boarding trains have valid tickets?
It is a question that evades answer: even the railway ministry is seeking a quick answer to this.
An analysis of ticketing data between April 2013 and January 2014 showed that there was a 5.25% shortage in the number of passengers on railways than what was expected. The target-earnings also fell short by 10.90% because of this. Ticket-checking also missed target by 11%.
The railways have hence come to the conclusion that the numbers of passengers aren't actually falling, but it seems so because a lot many people are travelling without tickets!
Sounds logical!
As reported earlier in these columns, railways' emphasis is on fortress checking. But as some officials put it, it's a temporary measure. A finer measure would be better ticket dispensation. Here is a lowdown on the one issue that has been vexing railway officials in the city as well as Delhi.
Bad year
Central Railway ticket-checkers missed their targets by a whopping 51.35%. Against a Rs 34.7cr target, they brought in just Rs 16.88cr. That however, was a 28% improvement from the Rs 13.16cr collected in 2013-13.
But according to officials, missing targets by such a big margin in a city like Mumbai is a bad sign. Authorities had set a target of 11,65,000 cases for March 31, ticket-checkers could do not better than 7,16,733 – the target being missed by 38.48%.
WR was supposed to collect Rs 41.8cr as fine, but ticket-checkers could manage only Rs 36.2cr, slightly higher than the Rs 31.3cr collected in 2012-13. Against a target of booking 5,36,016 ticket-less passengers, WR checkers nabbed just 3,18,484.
The problem
Ticket-checkers have a different story to tell, however. They are finding it increasingly difficult to nab people travelling without tickets.
"In stations like Kurla, Andheri, Dadar and Thane, a checker has just no chance of nabbing a ticket-less traveller because of large volume of the crowds. Foot-overbridges are crammed and if a person wants to avoid a TC on the crowded FOB, it is very easy," said a TC.
It's almost impossible to enter trains for nearly seven hours—two peak periods—of the day, leaving ticket-checkers just a small period to nab offenders. "And night time is a thin period with not too many commuters on platforms," said the TC.
Unauthorised entries
A survey conducted some years ago by Mumbai Rail Vikas Corporation over a period of several months ending in November last year, showed a huge number of people entering and exiting through gaps not manned by ticket-checkers or any other officials.
On CR mainline, that is between CST and Thane and beyond, of the 37,36,490 people who used the 14 surveyed stations, 1,38,364 people (4%) used these gaps, and 35,98,126 used the authorised entries. On WR, in the 13 big stations surveyed, of the 42,93,693 people, some 1,43,580 (3%) used these gaps.
On the Harbour Line, in the 11 surveyed stations, of the 14,79,940 people using the stations, nearly 2,41,033 (16%) came or exited through the gaps. Of the Harbour Line stations, Govandi was the worst: while 78,349 people used the mandated entries and exits, a sizable 54,612 people used unauthorised gaps.
Official apathy
The railways themselves have been unable to do anything substantial about their ticketing mantra, which states that a commuter should get ticket within five minutes of entering a station, and that a booking clerk should be able to dispense 5 tickets in a minute. Currently, a booking clerk gives out around two tickets every five minutes, and a normal commuter has to wait 10 to 12 minutes to get a ticket.
The decommissioning of ATVMs, especially on WR, where in a single stroke 115 of the 195 ATVMs were decommissioned last August, is not helping matters either. Officials agreed that the queues on WR have increased, and this while the plan to acquire 490 new ATVMs still remains on paper.
In this aspect, CR is slightly on a better wicket. Its Rs 10-crore plan to acquire around 400 new ATVMs to supplement the 300 it already has, was finalised last week. It will also add 200 Jan Sadharan Ticket Booking (JTBS) counters to the present 174 JTBS.
In the JTBS system, shops and such establishments in civil areas can instal ticket vending machines in their premises. The shop owner will get a rupee as commission for each ticket sold. CR currently sells 45% tickets through these non-conventional outlets.
The number game
Central Railway
Target for 2013-14: Rs 34.7cr
Achieved 2013-14: Rs 16.88cr
Missing target by: 51.35%
Achieved 2012-2013: Rs 13.16cr
Western Railway
Target for 2013-14: Rs 41.8cr
Achieved 2013-14: Rs 36.25cr
Missed target by: 13.3%
Achieved 2012-2013: Rs 31.33cr.
Indian Railways
Passenger target for 2013-14 missed by: 5.25%
Passenger earning target missed by: 10.9%
Ticket-checking target missed by: 11.06%