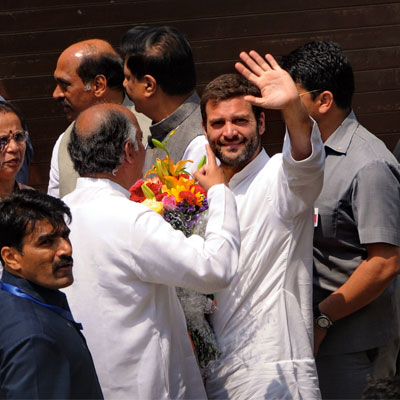 Congress Vice President Rahul Gandhi's rally at fishing colony in Versova on Thursday turned out to be a highly sensitive situation for the police as far as providing safety is concerned. All the lanes to the area were blocked one hour before the start of the rally, with six boats full of cops shielding any intrusion from the sea side. Gandhi finally left in a chopper for another rally from Juhu airport after the event.
Though the organisers had demanded that over a 1000-strong audience would be allowed inside the event venue, the police administration allowed only 427, due to tropical constraints of the area. The police top brass were so strict in security implementation that they did not even allow senior Congress MLA Gurudas Kamath's Personal Assistant (PA) to enter the rally without a pass, said the insiders.
The 427 passes were distributed to the audience and party workers in advance and only those with passes were allowed to enter inside the venue, that too one hour before.
"The topography of the area is very dense and cluttered with slums and one can approach the venue only by walking. Hence the security arrangements were made keeping everything in mind," said a senior police official responsible for securing the area.
All the major political parties are trying to woo the fishing community in the city as it is closely-knit. The fishing community at Versova, has a long association with political and freedom movements since the pre-independence days when many of its residents took active participation in various rallies called by MK Gandhi and Jawaharlal Nehru.