His sister Priya is seeking re-election to LS from Mumbai North Central segment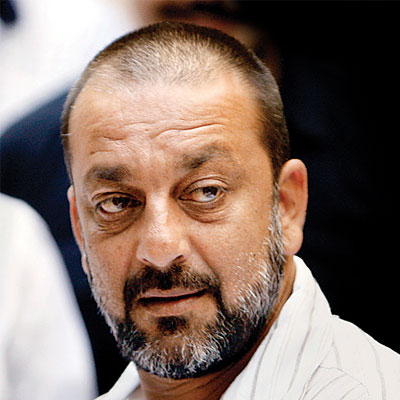 Arms Act convict and outgoing Congress MP Priya Dutt's actor-brother Sanjay Dutt could not vote this election as he is cooling his heels in the Yerawada Central jail in Pune.
Priya Dutt is seeking re-election to Lok Sabha from Mumbai North Central constituency on a Congress ticket and though the brother-sister duo hasn't been thick, he had campaigned for Priya briefly in 2009.
Sanjay Dutt's decision to campaign for Samajwadi Party in 2004 had brought to fore the rift in the family. The sisters Priya and Namrata were also not too happy with Sanjay's marriage with Maanyata, an ex-item girl. They, however, stood by him after he was convicted under the Arms Act in the 1993 serial blasts case, where Sanjay was accused of illegal possession of AK-47 rifle and later destructing it after the police came to know of it.
The Representation of the People Act, 1951 clearly states that any person in lawful custody of police cannot vote. Sanjay is currently spending a 42-month prison term at Yerawada and therefore was not allowed to vote -- neither in Pune where the polling day was April 17 nor in Mumbai where the polling was held on Thursday.
Noted lawyer S K Jain said, "As per the section 62 of The Representation of the People Act, which speaks about 'Right to vote, sub-section five, no person shall vote at any election if he/she is confined in the prison, under a sentence of imprisonment or transportation or otherwise, or is in the lawful custody of the police'. This means even the undertrials can't cast the vote.
In 2013, there is a new amendment made to the same section. By this amendment, a further proviso has been added to sub-section (5) of Section 62 of R.P. Act, 1951, that if a person who is enrolled in the electoral roll is confined in a prison or in lawful custody of police, he will continue to be an elector notwithstanding the prohibition against voting under the said sub-section." This means his name could continue to remain in the voters' list, and he could vote in the elections after he is freed from the jail.
It is in the light of these provisions in the R.P.Act, Dutt and all others held in Indian prisons are not allowed to vote in what is considered as the biggest democratic exercise in the world.
Dutt, who writes to his wife on a daily basis from jail, however sent his wishes to his sister.
"In one of his letters to his wife, Dutt had inquired about Priya's campaigning and had asked Maanyata to extend his best wishes to her," sources in the Yerawada prison told dna. Letters to and from the prisoners are routinely checked by jail authorities.
Superintendent of Police (Prisons) Yogesh Desai said convicts were not allowed to vote as per the law and Dutt didn't even file any request for the same.