It's a shocker. How the law of land is short-circuited to help power companies.
Mumbaikars are left to live with expensive electricity even when the law of the land favours open access and competitive pricing. The regulator, the Maharashtra Electricity Regulatory Commission (MERC) which enjoys the tacit support of the state government, has continued to work against consumers' interest, and is throttling competition.
After Reliance Infrastructure (R-Infra), a part of Anil Ambani Group, stalled rampant migration to Tata Power Company (TPC) by getting MERC stipulating tough conditions for consumers for changeover, it is the turn of Brihanmumbai Electric Supply and Transport Undertaking (BEST), which supplies electricity in the island city. BEST is now planning various strictures to dissuade its consumers from moving to TPC after a recent Supreme Court order that has reiterated BEST has no monopoly in the game.
"We are thinking on the lines of R-Infra, on cherry-picking high-end consumers, and leaving out the low-end consumers," a senior BEST official told dna, implying that migration to TPC will be an expensive affair for the middle-class.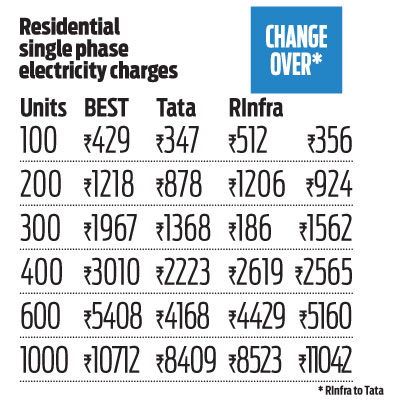 BEST supplies electricity to around 10 lakh consumers spread across Colaba to Mahim Causeway on the western side and up to Sion, on the eastern part of the city.
MERC had stipulated tough conditions for R-Infra consumers for changeover. Only those who used less than 300 units could qualify for a change over to TPC.
"The moot question now is what stand will MERC take this time? In the past, it has been known to take the side of the suppliers and not the consumers. Will it push for effective competition and honour the statute under which it was created, or will it again meekly succumb to the will of the monopolistic electricity companies?" asked Sandeep Ohri, the first consumer who fought for consumer rights to choose a service provider way back in 2007 utilising the Right to Information Act.
The island city of Mumbai now has four different tariff rates, with direct uses of TPC being the lowest.
For example, the BEST tariffs for 300 unit consumption is Rs 1,967 against TPC's Rs1,368, R-infra's Rs 1,861 and Rs 1,562 for 'change-over' customers, meaning consumers who use R-infra network but get supplies from Tata Power (see table).
The tariffs are expensive because R Infra and BEST have been permitted to pass on the losses onto retail consumers, and extended to even those R Infra consumers who have opted out for TPC.
BEST, on the other hand, also recovers losses of its public transport business, from its retail consumers- meaning a handful BEST consumers are subsiding transport meant for the entire city!
"We have an eight-year cumulative tariff loss of Rs 3,500 crore once that gets cleared we will revise out tariffs downwards," said OP Gupta, general manager BEST.
On the transport losses, he said that over 40 lakh odd customers use the public transport daily and subsidising rates was a social need. "Unlike R-Infra, BEST is not a profit-making entity and it is subsidising public transport," Gupta said.
READ: Cross subsidy, regulatory asset charges make changeover consumer category uncompetitive
Electricity consumers of BEST at present pay an additional charge under Transport Division Loss Recovery at the following per unit rates: Rs 0.55 (0-100), Rs 1.03 (101-300), Rs 1.44 (301-500) and Rs 1.85 (501+).
Now the charges for consumers who have changed-over to TPC from R infra since 2009, in addition to energy charges, there are cross-subsidy surcharges and regulatory asset charges (RAC) – the high cost of power it procured when they were R-Infra consumers. Both CSS and RAC have become effective from April 2014 and add to 50-60% burden to the consumer of the energy costs.
"Subsidy has become a price for inefficiency," says Guruprasad Shetty, the first BEST electricity consumer who got a direct supply from TPC on June 11 after waging a five-year legal war against the service provider for not allowing migration to cheaper power supplier, TPC.
"It is not an easy task for Tatas to lay down cables in BEST areas," said one BEST source.
MERC chairperson, Chandra Iyengar, was unavailable despite repeated attempts by this correspondent.
Starting with the latest, the Supreme Court (SC) verdict of May 6, 2014, clarified BEST could not claim an exemption under Section 42 (3) of the Electricity Act 2003, from providing its network for wheeling or allowing any other distribution license to supply electricity without its permission.
Notwithstanding the apex interpretation, the undertaking is planning a series of legal measures before MERC to thwart any attempt by consumers to move over to Tata Power.
Recently, MERC has also permitted steep hikes in the cross-subsidy surcharge to consumers who changed over from R- Infra to TPC from three paise per unit to over 500-unit consumers of Tata Power to Rs 2.40 per unit. Besides, it also permitted R-Infra to extend this levy (CSS) across all categories of changeover Tata users as follows: 0-100 units at 57 paise per unit; 100-300 units at 75 paise and 86 paise for 300-500 unit consumers.
Call it the price of power!
Read the R-Infra response to this story:
We never stalled migration: R-Infra