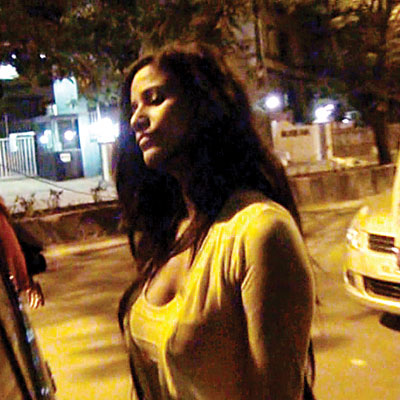 The Mira road police on Friday night booked Bollywood actor-model Poonam Pandey for allegedly behaving indecently.
According to the police, Pandey, 23, a resident of Goregaon, was wearing revealing clothes and was waiting outside her car around 10.30pm. A patrolling van stopped and questioned her. Later, they brought her to the police station and booked her under section 110 (indecent behaviour in public) of the Bombay Police Act. She was released after a warning.
However, Pandey has a different story to tell. According to her, she was inside her car with her brother Aditya, 25, and was heading towards Mumbai-Ahmedabad Highway. "We were in our car and were approached by the police. They asked me for my name and when they realised that I was a model, they brought me to the police station and booked me," said Pandey.
"Listening to songs in the car or wearing a short dress is not indecent behaviour. I cooperated with them and was later released," said Pandey.
Pandey, who made headlines during the 2011 Cricket World Cup, when she had declared that she would strip for the Men in Blue, if they won the trophy. She also said that the police had a problem with her clothes and that's the reason why they took her to the police station. "At the police station, everyone was staring at me. I had no idea, why people were looking at me like that," said Pandey.
Prafull Wagh, assistant police inspector, Mira Road police station said, "We had asked her to provide us with complete details and later, we released her with a warning."