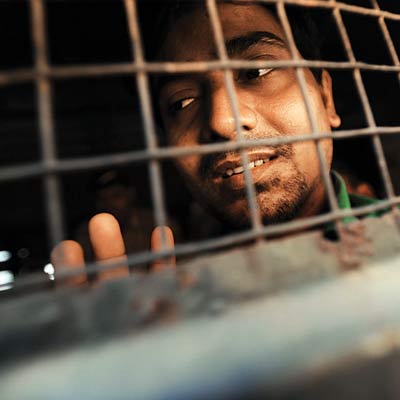 The sessions court on Tuesday adjourned the hearing on the additional charge (section 376 (E) of the IPC put on repeat offenders in gang-rape cases) slapped on three of the four convicts in the August 22 photojournalist gang-rape case to Wednesday after the defence sought a day's time to appeal in Bombay high court. The prosecution, however, examined two new witnesses in order to prove the new charge against them.
Special public prosecutor Ujjwal Nikam said, "We examined Sanjay Nikumbe, the investigating officer in the July 31 Bhandup gang-rape case and Nimba Jadhav, a retired police officer, who informed the court that convict Kasim Shaikh alias Bangali, who was arrested in a case was on June 17, 2011, was released on a bond of good behaviour for three years. However, during that time, he committed two gang rapes. This proves that the accused, even after being released on a good will bond, had the mindset to commit gruesome crime."
The defence advocates, however, refused to examine the witnesses. Advocate Prakash Salsingekar, while pleading before the court, said, "The new charge is of a serious nature. It is actually a matter of life and death for my client and, thus, we have approached the Bombay high court to challenge it. Also, after the court slapped my client with the additional charge, it has given the prosecution a chance to plead for death penalty."
The prosecution opposed the adjournment on the ground that as per an HC order, passed in the Shakti Mills gang-rape case in January 2014, if the defence refuses to examine prosecution's witness, the trial court need not to hold back the trial. The court, however, granted the defence time till Wednesday.