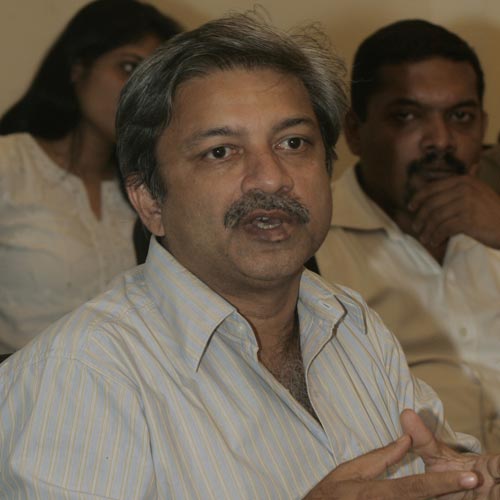 Mayank Gandhi (55) is the most unlikely of politicians. He is related to a family of big builders. He entered the India Against Corruption (IAC) movement just before Anna Hazare did. Today, he is the face of the Aam Aadmi Party (AAP) in Maharashtra. Gandhi is contesting the Lok Sabha election from Mumbai North-West, where he is pitted against Gurudas Kamat of the Congress and Gajanan Kirtikar of the Shiv Sena. Excerpts from an interview.
Q: What are the main issues of your campaign?
A: I am focusing on housing, corruption and inflation. The people are realizing that inflation is directly related to corruption. If corruption is reduced inflation will also come down. My party has a track record of fighting corruption and the people are aware of this. As for housing, I am of the opinion that builders should be thrown out of housing schemes for slum dwellers. Last year, the Maharashtra Housing and Area Development Authority (Mhada) had Rs6,600 crore, but it spent less than 20 per cent of the amount. Mhada must build houses for the poor. These flats should be of at least 450 sq ft carpet area. At the same time, stringent action should be taken against the nexus of slumlords, politicians, municipal and police officials who benefit by the proliferation of slums, where a hut is sold for between Rs5 lakh and Rs35 lakh. The slum dwellers are actually victims of this nexus. While treating slum dwellers with dignity, one should also ensure that no new slums come up.
Q: Are you against the Slum Rehabilitation Authority's (SRA) plan to rid Mumbai of slums?
A: SRA has been a huge failure. Under this scheme, not even five per cent of slums have been cleared in the past two decades. In any case I don't want private builders to be given any role in the removal of slums.
Q: It is surprising that you are against involving builders when you yourself are one.
A: I was never a builder. I used to work for my uncle's company (Lok Group, set up by late Lalit Gandhi), which was into real estate development. In fact, I was in charge of an NGO, floated by my uncle, that promoted the remaking of Mumbai. As one close to the construction business, I was disgusted with the corruption and the builder-politician nexus and decided to call it quits. I had no commercial interest in my uncle's company in any case. I joined IAC in 2011, two days before Anna Hazare joined the movement.
Q: Unlike in Delhi, AAP has not made any worthwhile impact in Mumbai. Doesn't that worry you?
A: I took part in the campaign in Delhi. Now I am campaigning in Mumbai. I find there is a strong undercurrent of support for AAP that is more than what it was in Delhi. So far, I have covered 1.20 lakh households in my constituency and I am seeing tremendous support. Don't be surprised if AAP performs well in Mumbai. The people are very angry with the traditional political parties and they want a change. Gurudas Kamat, the sitting member of parliament, did nothing for the constituency or in parliament. Of the Rs19 crore funds allotted to each MP, he spent only Rs9.11 crore. The constituency needs money badly for development; every penny counts.
Q: The MNS has fielded film personality Mahesh Manjrekar. He is likely to split the Marathi votes, which in turn would ensure victory for Kamat.
A: Marathi voters are fed up with both the Shiv Sena and the MNS. They are looking for an alternative beyond the two parties. Many of them are willing to support AAP. There is no way the Congress will win because it is the most hated party today. Overall, it would not get more than 55 seats.
Q: AAP has raised the matter of gas pricing in the Krishna-Godavari Basin and Kejriwal has accused the Congress of helping Mukesh Ambani to rake in thousands of crores. Are you taking up this issue, considering that Ambani is a resident of Mumbai?
A: No. These are national issues.
Q: You have been labeled in the constituency as an outsider.
A: I live in Vile Parle and my house is only 12 metres away from the constituency. So really speaking I am not an outsider. Also, as an activist, Andheri was my area of work.
Q: Are you handicapped by a shortage of funds?
A: I am not handicapped in the sense that this election will not be decided on the basis of money power. The election commission has put a cap of Rs70 lakh. I have received Rs25 lakh and some others have also committed funds. My rivals are splurging crores of rupees. Each volunteer is being paid Rs700 plus biryani. Parties are being held at several hotels. Paid news is also in vogue.