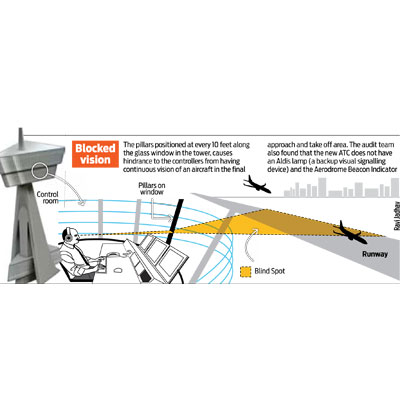 Safety of passengers and aircraft is becoming a major concern at Chhatrapati Shivaji International Airport (CSIA) with the number of bird hits and air incidents in the Mumbai airspace going up substantially in the last one year.
The data on safety audit conducted recently, which is available with the Air Traffic Control (ATC), reveal that there were 13 reported air miss incidents in 2013-14. It was only 10 a year before.
Similarly, bird hits, which cause losses of about Rs 20 crore every year to the aviation industry and could turn fatal at times, went up to 65 in 2012-13 compared to 52 in 2012-13. However, runway incursions have come down, from 4 to 2, during the same period.
Air incidents as per aviation parlance include a near collision, a flight going out of control into the terrain (marginally avoided), aborted take-off or landing in a closed or engaged runway, system or operational failure that could have caused difficulties in controlling the aircraft, shortage of fuel below permitted limit, etc.
These revelation are significant because earlier this year, US regulator FAA downgraded the Indian aviation regulator, Directorate General of Civil Aviation (DGCA), citing safety issues. This has put India among countries like Indonesia, the Philippines, Bangladesh, etc that have poor aviation safety records.
An AAI source said: "The air incidents will keep on increasing because though aircraft operations have increased many fold, there has been no corresponding increase in manpower."
The audit also found that the new spacious ATC tower at CSIA, the tallest in the country, has certain design flaws though it gives a clear view of the entire operational area.
"The pillars positioned at every 10 feet along the glass window in the tower, causes hindrance to the controllers from having continuous vision of an aircraft in the final approach and take off area," the report says.
The audit team also found that the new ATC does not have an Aldis lamp (a backup visual signalling device) and the Aerodrome Beacon Indicator (normally installed at ATC to indicate its location to pilots during night).