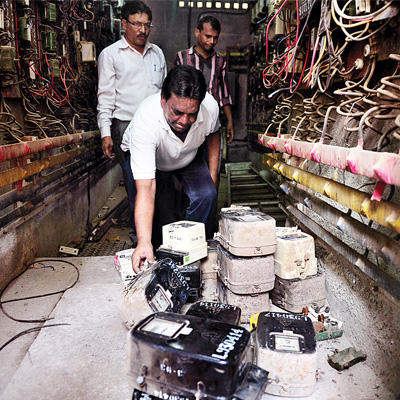 It may not be the end of the road for a section of residents in Worli's Campa Cola compound trying to save their homes. However, some of them feel dejected even as the BMC undertook the first phase of its drive to demolish illegal flats in the Compound on Tuesday.
The BMC began disconnecting electricity, piped gas and water supply to the illegal flats since Tuesday evening. "And see, we are in darkness," said a teary-eyed Kamal Parikh, a Campa resident since 24 years.
After a year-long battle, which includes her going on a nine-day fast in an effort to save homes of the 90-odd residents, Parikh said that she isn't optimistic anymore. "We did everything that was possible. But success continues to elude us. Now, I have lost hope. This entire episode has left us disarrayed. We were planning to marry off our elder son (Mihir) this year. But we are forced to postpone it for another two years even as we look for alternate shelter," she said.
Parikh said that she was worried about her younger son Sitanshu, who is in class XII. "We are worried for his studies. So far, we have managed to rent a flat in Worli itself. But that's a temporary arrangement. We are left to build everything from scratch," she said, looking out of her home's window.
Nirmala Shah, who has been staying at BY Apartments for the past two-and-a-half decades, has a similar story to share. But unlike Parikh, she hoped CM Prithviraj Chavan would work a miracle for the occupants, even as her family has moved their belongings to relatives' homes. "After spending so many years in the Compound, we are compelled to look for alternate shelter. I am more worried about my children," Shah said, sitting in her empty home. The resident said that the pall of gloom is such for the family that her businessmen sons, Ankit and Nikhil, have not been able to work since the past 40 days. "They are trying to save our home. In that process, they have not been able to focus on work. Where do we go from here now? We hope Chavan does something," Shah concluded.