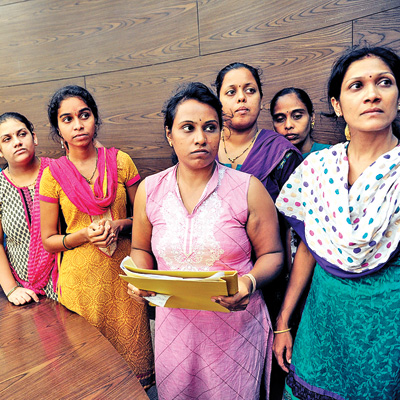 The civic body is in trouble for giving stepmotherly treatment to nurses who served during a spurt of infectious diseases two years ago. Thirty-two nurses, who had served on contract in civic hospitals, have come out in protest against BMC's latest nurses recruitment policy.
BMC is launching a massive recruitment drive on July 25 for taking 887 nurses on board in three medical colleges, 16 peripheral hospitals and, additionally, maternity hospitals in the city. Thirty-two nurses are crying foul that BMC has introduced partial recruitment parameters this time around.
"Of 887 posts, 90% are reserved for those applying from BMC-run nursing colleges, ie 799 posts. However, there may not be so many applicants from BMC-run colleges. Only 10% posts (88 seats) are reserved for nurses passing out from other colleges," said an aspiring nurse who had served in 2010-12 in Rajawadi Hospital.
The nurses have alleged that BMC has not laid down any rules for recruiting nurses from their own colleges, in terms of a minimum cut-off percentage, but has asked for a minimum of 65% in Std XII and 55% in diploma (nursing) from those coming from private colleges.
"In 2010-12, when there was a massive epidemic of dengue, malaria and swine flu, we were hired in emergency. With the epidemic now worn off, they are turning a blind eye towards us," said another nurse who had worked for 2.5 years in RN Cooper Hospital, Vile Parle.
"Never before has such a partial approach been adopted. Even in 2013, the parameters for recruitment of nurses passing out from BMC colleges or private ones were the same."
Since last year, nurses on contract are sitting jobless. In 2013, the labour unions vociferously opposed re-hiring of these nurses and BMC was dragged to court. However, various BMC corporators and mayor Sunil Prabhu had appealed to the administration that 32 nurses on contract should be made permanent.
"The nurses had served the patients day and night during the outbreak of dengue, malaria and swine flu between 2010 and 2012. The cases of infectious diseases had touched the roof then. Their contracts were abruptly terminated after serving in BMC hospitals for 2.5 years," Prabhu had said then.
BMC officials said the civic body can stop or change the recruitment procedure at any point under the powers vested in the municipal commissioner.