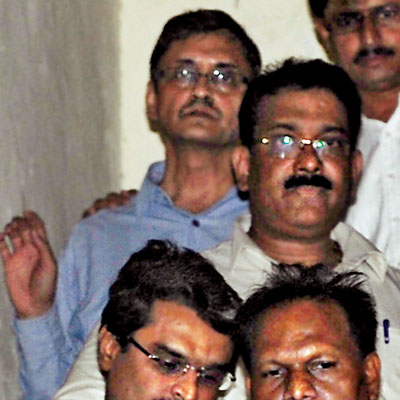 The Economic Offences Wing (EOW) of Mumbai police on Wednesday arrested the kingpin in the NSEL scam, Jignesh Shah. However, for the investors, this is just the beginning of a long legal battle ahead.
Most of the investors on Thursday turned up outside the sessions court where Shah was produced before the magistrate for remand. Ketan Shah, 46, an investor and a resident of Nepean Sea Road who has invested almost Rs15 crore, said, "This is just the beginning for us; now, we want to ensure that the money of all the investors are recovered."
"Along with Shah, even the brokers are to be blamed. They were our wealth managers and they assured us that our money was safe. We trusted them, but they did not do any background check."
Investors who were duped by Shah claimed that they have lost so much money that it is getting difficult for them to start afresh. Walkeshwar resident Rajesh Kamani, 59, invested around Rs54 lakh in NSEL. "Shah going behind bars doesn't really help our cause; we don't really care what happens to him. What matters to me is my money; I'm not sure if I will ever get it back," Kamani said. "Our growth has been hampered.
We have been pushed back," he added.
Some of the investors followed their friends who initially boasted of good returns on their investment. The victims initially even encouraged their family members to invest money in NSEL. Resident of Peddar Road Anil Sonthalia, 44, said, "I was told about NSEL by a friend who showed us how he was receiving good returns on his money. I, along with my family, invested around Rs5.50 crore. We are happy that Shah has been arrested by the police. We pray and hope that our money too is recovered from him."
One of the investors borrowed money from his own son convincing him that the investment will give good returns. Bharat Sharma, 64, who was first introduced to NSEL by his employer, has been cursing his fate since the past few months. Every time an arrest is made by the police, Sharma makes a point to approach the cops to enquire on the progress of the investigation.
"I invested Rs30 lakh and the money was of my son who works abroad. But now I cannot show my face to my son," Sharma said.