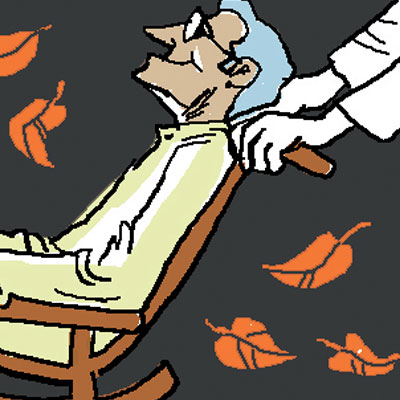 In the context of the rising trend of nuclear families where elders are left alone to fend for themselves, an educational institution has taken the initiative to introduce a short training programme for senior citizens' care.
The innovative three-month certificate course has been launched by the Dr Babasaheb Ambedkar Research and Training Institute (BARTI) in Pune and is to be started in Mumbai and Thane also.
"Today, many elderly people are living alone with no one to care for them. And their numbers are growing," said Sailesh Mishra, founder president, Silver Innings, an organisation dedicated to the cause of elders.
India has about 90 million aged people, according to an estimate by the United Nations Population Fund and HelpAge India, and this number is expected to nearly double to 173 million by 2026. It is believed that a third of the seniors live alone.
"Old age is synonymous with memory loss, schizophrenia and such issues which requires the attention of trained caregivers. But many old people have to depend on untrained helps. The course will be useful for those who want to help seniors," Mishra said.
Xxxxx Xxxxx, project director, BARTI, said the course had received a good response. "The training prepares candidates to provide non-medical assistance daily to seniors. Besides routine activities, they can also remind them about their medical visits," he said.
Capt Haridasan, secretary, Veteran citizens Forum, says the initiative is encouraging. "Such people require companionship, help at home and medical attention at the right time. They are prone to falls and can land in trouble till somebody lands up at the house. So attention by qualified persons will solve half the problem," he said.
A similar training programme is already available at the Tata Institute of Social Sciences (TISS), which is conducting a certificate course in partnership with Shree Manav Sewa Sangh.
Silver Innings is planning to launch the course in the central suburbs. Those interested can approach TISS to conduct the training. Candidates who complete the training can start their own facilities or even work at old age homes.