Court cites Aurangabad case where wife walked out a year and a half after marriage without any provocation.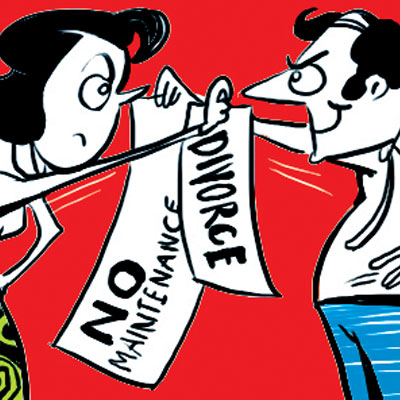 A wife who deserts her husband without any just or sufficient cause is not entitled to any maintenance, the Bombay high court ruled on Saturday.
Justice Abhay Thipsay of the Aurangabad bench of the high court recently allowed an appeal filed by a man challenging the proceedings initiated by his estranged wife before the lower court seeking maintenance.
The couple got married in April 2003.
According to Milind Joshi, the husband's advocate, the woman had left their home after one-and-a-half years of marriage without any provocation.
And as she did not respond to her husband's notice asking her to come back home, he filed a petition before the family court seeking restitution of conjugal rights. The wife then filed a petition seeking maintenance.
The family court allowed the husband's petition in July 2006 and dismissed the wife's petition for maintenance. She then challenged the order on conjugal rights, which was dismissed.
As the wife still refused to return home, the husband filed a petition seeking divorce on grounds of cruelty. On March 16, 2009, the family court passed a decree dissolving the marriage. She then filed a fresh petition seeking maintenance.
She said since divorce had been granted she was entitled to maintenance.
The husband approached the high court, asking her petition to be quashed.
RV Gore, advocate for the wife, argued that previously the woman was not granted maintenance on the ground that she had been living separately from her husband without sufficient reason. But now that the marriage had been dissolved, she was under no obligation to stay with him, and hence she should be awarded maintenance.
Justice Thipsay observed: "Though this argument is rather ingenious, there is actually no merit in it." He said the marriage had been dissolved because the court did not find any just or lawful reason for her to leave her husband.
"When this is the position, just because the marriage has been dissolved, the wife does not automatically become entitled to maintenance," added justice Thipsay.
The court quashed the proceedings before the magistrate observing: "Continuation of the proceedings in question, would be nothing but an abuse of the process of the court."