Dadar-resident Nikita Ketkar's NGO, Masoom, which works towardsimproving the quality of night schools in the city, wins the Global Rising StarAward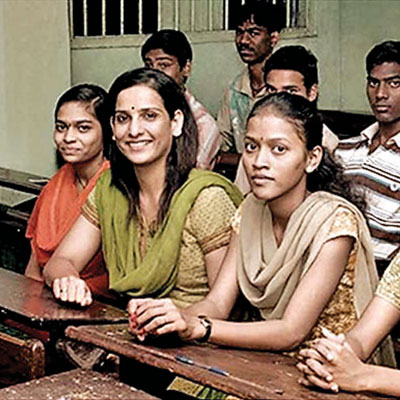 In 2006, Nikita Ketkar initiated a participatoryresearch project, sponsored by Partners for Urban Knowledge Action and Research(PUKAR), on night schools in Mumbai. The report, "To understand educationalneeds of night school students and developing methods to overcome them" wascompleted in 2007. The report concluded that night schools were failing to meetexpectations and fulfill their potential.
At the very least, they demonstratedthe need for improved resource and infrastructure. This led to the conceptionof Masoom.
Before embarking on her philanthropic journey, Ketkar,Founder and CEO of Masoom, was in the civil services till 2005. A freelancejournalist during her college days, she passed the UPSC exam (Civil Service) in1998 and was in the armed forces headquarters for about three years, before sheresigned and joined the social sector.
Whenever we talk of education, we rarely think ofnight schools and the scholars there. Ketkar pointed out a few groundrealities, "The students at night school are generally in the age group of14-22 and are mostly employed during the day. It is heartening to note thatnight school students are self-motivated and eager to pursue their education,with many of them having migrated to Mumbai from rural areas in search of workor having dropped out of school due to personal or financial reasons." Unlikeday school scholars, night school students usually do not have access to propereducational and infrastructural facilities. For obvious reasons, night schools alsohave lesser number of hours as compared to day schools. These pose a hugechallenge. Ketkar said, "The 20,000 students or so who attend night schoolsdeserve quality education."
Known as the 'Night School Transformation Programme',Masoom has developed a three-pronged intervention model to provide good qualityeducation. The programme has been designed so that it can be replicated andimplemented in other schools and states in India. Ketkar explained, "Masoomfocuses on strategically building the capacity of night schools throughtime-bound intervention (five-year plan). Our plan is to not only provideresources during the course of our programme but to simultaneously equip theschool stakeholders with the necessary skills to sustainably carry forward thesystems and practices that have been set in place. The tools being used forthis process include a newly developed grading tool, which grades schools fromA-D, and a transformation framework, which tracks how the school should beupgraded from level to level in these five years and become self-sustainable."
Masoom has seenvisible improvement on almost all parameters that are used to track theperformance of their intervention–increased enrolment, reduction in dropouts,better pass rates in SSC examinations and ultimately a larger number of thestudents wanting to pursue vocational courses. Ketkar said that the dedicationand hard work of Team Masoom has yielded great results. With facts andstatistics at her finger tips, she enumerated, "Enrolment of out-of-schoolstudents increased from 5 to 182 between 2008-2012. SSC pass rate of studentsincreased from 36 per cent to 72 per cent in the Masoom-supported night schoolsbetween 2008 and 2013. Attendance of students increased from 34 per cent to 61per cent between 2008-2013. Two schools achieved 100 per cent results in the2013 SSC exam and an other achieved per cent results. We also influenced theinclusion of night schools in the Mumbai Human Development Report." Way to goMasoom!