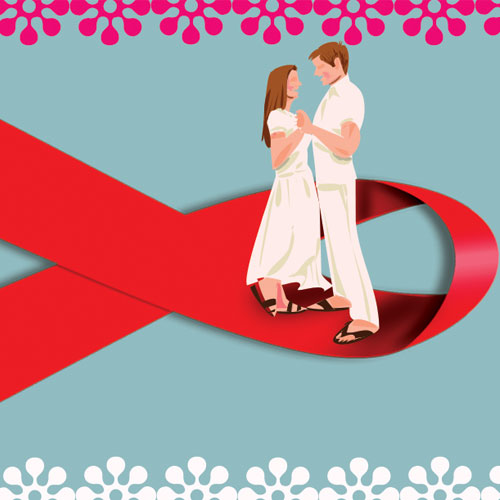 An air of nervousness gripped men and women who gathered at Dutt Guru Seva Mandal Hall in the Takya ward area of Kurla (West) on Thursday. At least 124 Human Immunodeficiency Virus (HIV) positive persons met to discuss the prospect of spending the rest of their lives with each other at a get together organised by the Network by People living with HIV in Mumbai (NPM+).
Up to 84 men and 45 women had gathered to find their soul mate. This was the third such annual fair organised by the NPM+ in a row. "Each person was given a batch number and an opportunity to speak a few words about themselves. Later, they were given a chance to express interest in meeting any three persons from the opposite sex. Every meeting was later coordinated by our volunteers," said Anita Waigankar, general secretary, NPM+.
Anand Patil, 42 and Sujata Sarve, 30, both HIV positive persons, met for the first time at the do and are now pondering marriage. They believe that life does not stop after contracting the virus. Anand runs a snack stall in Parel and has two grown up sons, aged 21 and 18. He lost his wife to HIV and multi-drug resistant tuberculosis six months ago.
"My wife was severely injured in a bike accident some years ago. I suspect that she contracted HIV through faulty blood transfusion and later passed on the infection to me. My wife expired some months back and my world came crashing down. I had slipped into severe depression when I realised that I had contracted HIV," Anand told dna. "My family has since been persuading me to get married."
Sujata's story is no less traumatic. She is a resident of Navi Mumbai and has a 9-year-old daughter named Priya. In 2007, her husband expired of Acquired Immuno Deficiency Syndrome (Aids) after passing on the infection to Sujata. "Until my husband died, I was not aware of the reason that led to his death. When my daughter was one and a half years old, I realised that we both were infected with HIV too," said Sujata. She was attending the marriage fair for HIV positive persons for the second time.
"Last year, nothing had struck in terms of searching for a life partner. But when Anand introduced himself, I was touched by his simplicity. He has heartily accepted me in spite of me being a widow with a young daughter from a previous marriage. We are thinking of marriage," she blushed.
Last year, at least 25 HIV positive couples got married after meeting each other at the NPM+ fair. "We have arranged for 45 couples to meet each other this time and are expecting some of them to get married," Waigankar told dna.