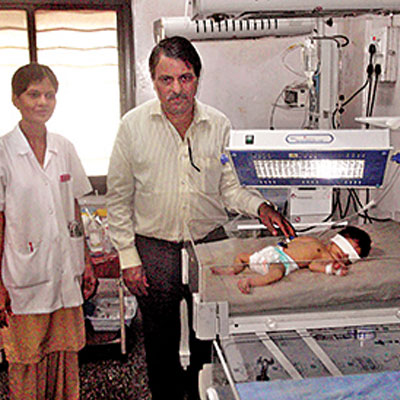 Abandonment of newborn girls is a disturbing trend, but in Ulhasnagar, the scenario was reversed.
A five-hour-old newborn boy was found stuffed in a plastic bag at a nullah in Avatal Chowk, Ulhasnagar, on Thursday. Hearing cries, no passer-by dared to touch the suspicious object. However, two boys brought the matter to the police's attention. After police officers rushed to the spot, they discovered the newborn whose body was drenched in dirty water. The washed the infant and admitted him to Ulhasnagar's state-run Central hospital for treatment.
Doctors say that had the boys failed to act, the infant would have a slim chance of survival.
"Two boys from the colony informed us about the bag. We immediate took cognisance and, reaching the spot, took the infant into our custody," said Sachin Shinde, sub-inspector, Ulhasnager police station.
"According to the doctor, the infant is fine and stable. Now we are looking into the matter," said Shinde.
"When the police brought the abandoned infant, everybody was shocked because, generally, in such incidents we never see parents abandoning boys. The infant was not deformed. After carrying out basic observations, we immediately admitted him to our neonatal intensive care unit. Currently, he is stable and out of danger. If the police did not bring him in a timely manner, he might have died," said Dr Arun Virdhe, superintendent, Central hospital.
The Ulhasnagar police have registered the offence of abandonment of child against an unidentified person.