Admiral RK Dhowan takes over as 22nd chief of naval command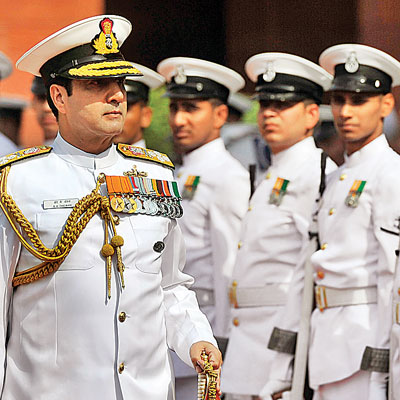 After being headless for over 50 days, Indian Navy finally gets its chief. On Thursday, Admiral RK Dhowan took over reigns of one of world's biggest navies.
Dhowan, a specialist in navigation and direction, won the race to become 22nd navy chief after superseding western naval commander vice admiral Shekhar Sinha due to his spotless career record. Government had to bypass the seniority precedence because it was finding itself in an uncomfortable situation to appoint a person, under whose Command majority of recent naval accidents had happened. And admiral DK Joshi had to resign taking moral responsibility of a series of mishaps. Ultimately, defence minister AK Antony recommended Dhown's name for the navy chief.
Now, speculation is rife that vice admiral Shekhar Sinha might resign or take legal recourse against his superseding. There is, however, precedence of superseding while appointing service chiefs. Among such cases is that of Lt General SK Sinha, who was superceded by Lt Gen AS Vaidya as the Chief of Army Staff in 1983. General Vaidya was in-charge when Operation Blue Star took place. Subsequently, Lt General Sinha took pre-mature retirement from the army.
Soon after taking over as the chief of naval staff, Admiral RK Dhowan told the media that the navy would ensure that major accidents do not happen in future. Personnel should follow laid down rules without resorting to shortcuts which lead to such incidents.
"We have effective safety audits and strict procedures in place to ensure that accidents don't happen. And the way to do that is to follow Standard Operating Procedures that are laid down and we don't take any shortcuts that lead to these accidents," Dhowan said.
In the last ten months, the navy has suffered 14 mishaps. An explosion in its frontline submarine INS Sindhurakshak resulted in the death of 18 personnel. The second submarine mishap took place on February 26 in which two officers died on INS Sindhuratna which led to the resignation of Joshi as Chief of Naval Staff.
When asked about co-operation from his senior colleague, Admiral Dhowan said, "Till the time we don't work together as a team and carry out our daily tasks and face challenges, we would not be able to become a top-class navy."
Listing his priorities for the force, he said his first priority area would be to ensure that the navy is combat ready to meet all the challenges at all times. "Second priority is to ensure that our men and officers are trained professionally and adequately."
He also said that future of Indian Navy lay in indigenisation and currently 45 submarines and warships are under construction in the country.
Admiral RK Dhowan, an alumnus of the National Defence Academy, has a long and distinguished service record spanning nearly 40 years. He has served in a multitude of Command, Staff and Instructional appointments. Admiral Dhowan's Sea Commands include commands of guided missile corvette INS Khukri, guided missile destroyers INS Ranjit and INS Delhi.