Maria Ovsiiannikova from Ukraine enthrals guests with her singing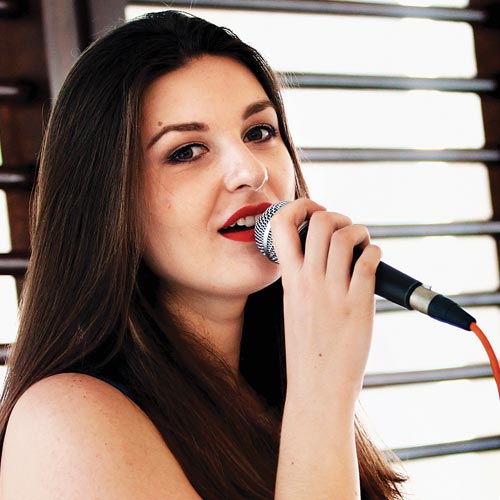 If you have had the opportunity to drop in at Asian Kitchen, the restaurant at Four Points by Sheraton, you would not have missed a young singer rendering international chartbusters in her sprightly voice. That's Maria Ovsiiannikova, an amateur singer from Ukraine who has been invited to add a musical flavour to complete your dining experience.
Ovsiiannikova started studying music when she was six and went on to attend the College of Jazz and Pop in Ukraine. As an upcoming singer, Ovsiiannikova specialises in western pop but likes to keep up with various genres of music. "Alicia Keys, Rihaana, Beyonce Knowles are some of my favourite singers whose songs I frequently sing. Their music and voice moves you and you are able to connect to them deeply," she says.
Speaking about having her in the hotel, Sumit Kant, general manager of Four Points by Sheraton, Vashi, said, "This is the first time an overseas singer has been invited to entertain hotel guests in Navi Mumbai. And Maria is an engaging performer. She not only sings but also dances to the songs and interacts with the guests."
Sometime during her musical journey, she and her friends decided to make their backyard singing more serious and thus emerged two bands- Four-Four and Balan Ca. Ovsiiannikova is one of the lead singers in both the bands. While the former has bass, acoustic guitar and percussionists, the second band has drums, clarinet, accordion and flute. "Four-Four specialises in lounge pop and jazz while Balan Ca focuses more on western pop, Russian pop and rock," she adds.
This being her first visit to Mumbai or for that matter India, the novelty factor is high. "There is a lot to know and explore about this place. Moreover, all the people I have met so far are very warm and affectionate. I really would love to visit the Gateway of India and other such sites," she says adding that she loves the use of drums in Indian music as it always makes one want to dance to the rhythm.
With fresh talent and eagerness, Ovsiiannikova dreams to make it big in the music industry. She, as a part of the bands, has performed in corporate events, birthdays and New Year parties in Ukraine but wishes to achieve more as an independent musician. "I wish to do big shows and give people some great music like my role models," she says.
She has also written and composed music for a few songs that she wants to have in her first album. And riding on her teacher's motivation, she is optimistic of attaining high notes.