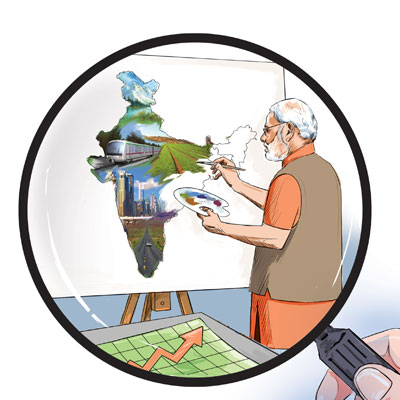 As prime-time talking heads and political commentators argue ferociously on whether Narendra Modi's tenure will bode well for India, some of India's top astrologers are already prophesying great times ahead under his leadership. The PM-elect is an unstoppable force, according to most fortune-tellers, and what's more, they predict he's likely to be around for at least the next 10 years.
Renowned astrologer Bejan Daruwalla claims he has had the opportunity to study Modi's hand on two occasions in 2012, and is certain that nothing can come in the way of Modi occupying the top job in the country. "I had told him that he is set to become PM and will demolish the opposition," said Daruwalla. Modi, according to Daruwalla, has exceptional organisational qualities and would have made an excellent surgeon or army commander if he had not joined politics. "He has been sent to Earth to fulfill a special mission," he said, adding that he must take care to keep his ego in check and not get carried away by success.
The stock market and industry's jubilation over Modi's victory may not be unfounded if we are to believe astrology. "Modi has a strong Jupiter and Mercury along with 'Laxmi yog'. Under his leadership, the rupee will rise against the dollar, new jobs will be added and there will be a marked improvement in the health, finance and infra sector," he said.
Chandigarh-based astrologer and numerologist P Khurrana asserted that India's flagging fortunes will be restored under Modi. "Contrary to what most people are saying, India's relationship with Pakistan, the US and China will blossom under Modi. There will be marked improvement in sectors like property, steel, hospitality and the share market," he said.
However, Modi may face a threat to life and his office. "There will be people close to him who will pose challenges but he will overcome them," said Khurrana, adding that Modi must not take any decision on a Saturday. "People whose names begin with the alphabet A, S and M will have special importance in his life," he said.
Considering Modi's key aide, Amit Shah, had a huge role in the BJP's spectacular victory, Khurrana may just be on to something. Sushma Swaraj, Arun Jaitley, Subramanian Swamy, Arun Shourie, Smriti Irani, Mukhtar Abbas Naqvi, Satyapal Singh, Anandiben Patel, Mohan Bhagwat, Meenakshi Lekhi, Murli Manohar Joshi and MJ Akbar may be the other political players of importance for Modi. Not to forget Madhu Kishwar, who had been zealously canvassing for Modi, in the run up to the Lok Sabha elections. Party president Rajnath Singh, Modi's supposed right-hand man, apparently does not make the cut.
Both Daruwalla and Khurrana said that the most auspicious date for Modi to take oath will be the 24th of May. Delhi-based astrologer Prem Kumar Sharma said that 21 May will also be an excellent day for Modi to take oath.
"Sushma Swaraj, Ram Vilas Paswan and Arun Jaitley are sure to be among his top cabinet ministers," said Daruwalla. "By 2018, Modi will take India to altogether new heights," said Khurrana.