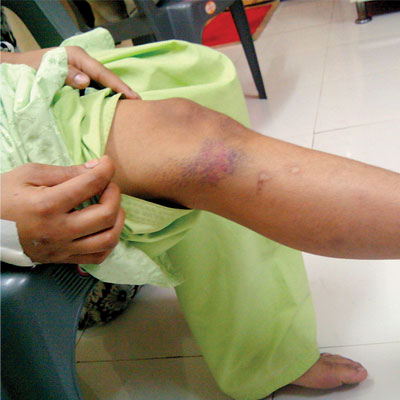 A 15-year-old girl from Nalasopara suffered extreme brutalities allegedly at the hands of her stepmother. The woman used to thrash the teen and brand her with hot spoons whenever she refused to do household chores.
According to the police, accused Shahjahan Akram Khan had been torturing the minor for the past two years. She was arrested on February 11 following a complaint by the girl and was released on bail the next day.
The police said the victim had lost her mother many years ago following which her father, who owns a paan shop in Mumbai, married Shahjahan. The couple resides at Rehmat Nagar locality of the suburb and has a 12-year-old daughter.
The police said at the time her marriage, Shahjahan didn't want to keep the victim, a small child then, with her. The girl continued to live with her grandparents in Uttar Pradesh before moving to Mumbai in 2012 for studies.
However, Shahjahan didn't allow the girl to join the school. She rather forced her to do all household chores. The 38-year-old woman would often scorch the girl with hot spoons whenever she refused to do the work.
The police said Shahjahan had tutored her own daughter to spin stories – as to how the minor was mischievous and always angered her mother – whenever her father enquired about the injuries on her sister's body.
In his statement to the police, the 52-year-old father said he spends long hours at his shop and reaches home late at night. He told the police that he never doubted Shahjahan and her 12-year-old daughter.
Neighbours said Shahjahan never heeded their requests and kept harming her stepdaughter. "Whenever we tried to intervene, she would pick up a fight and threaten us. I once saw Shahjahan dragging her by her hair," said Rabiya Shaikh, who lives next door.
The police said neighbours also told them that despite doling out burn injuries, Shahjahan would at times stamp on the teen's stomach if she asked for food. Unable to see her suffer any longer, a neighbour took her to the police station on February 11 and got her lodge a complaint.
"We registered a case under section 324 (voluntarily causing hurt by dangerous weapons or means),342(punishment for wrongful confinement), 323 (Punishment for voluntarily causing hurt) of Indian Penal Code and under relevant sections of Juvenile justice care and Protection act, 2000 and arrested Shahjahan," said Girish Dighaokar, investigating officer, Nalasopara police station.
Dighaokar said there were burn injuries on the 15-year-old's body. "She underwent a medical check-up and we are awaiting the report, which will establish if she suffered any internal injuries," said the policeman.
Shahjahan was produced in the Vasai court on February 12 and was granted bail. While she has moved to her relative place, the victim is staying with her father. Dighaokar said further investigations are on in the matter.