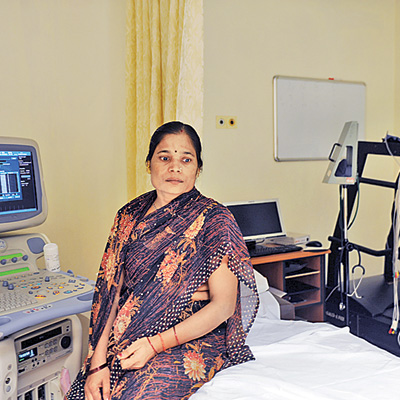 After having waited, unsuccessfully, for more than two years, Saroj Gupta, 42, mother of four, died of a heart ailment recently.
Two year ago, Saroj was diagnosed with dilated cardiomyopathy — a rare condition in which the heart becomes so weak and enlarged that it is unable to pump blood efficiently. The only way to treat her was to have her heart transplanted. But due to lack of awareness in Maharashtra, Saroj waited for two years, but in vain.
Even the hospital where she was being treated offered to bear all expenses but it was of no use for want of a cadaver heart.
Speaking to dna, Saroj's husband Manoj said the government urgently needs to start a heart transplant program in Maharashtra. "There are several patients like my wife who die due to non-availability of heart transplant procedure," Manoj said.
Saroj was suffering from heart ailments since 2008; but things took a turn for the worse after she was diagnosed with the rare condition. "Even a five-minute walk would make her feel restless, her pulse rate would gallop and she would sweat profusely," he said.
"Doctors said heart transplant was the only option left. Angioplasty and bypass surgery had been ruled out. The pressure on her heart also posed risk to her lungs and liver. We approached the Asian Heart Institute at Bandra-Kurla Complex. When I heard that heart transplant procedure is possible, I was hopeful that Saroj will surely get a cadaver heart and she will be fine... Doctors at the Asian Heart Institute were extremely helpful and they would often treat my wife free of cost. We did not have money for the transplant but the hospital was even ready to bear the costs... But we could not find a cadaver heart."
Manoj is primarily a milkman from Bandra. The Asian Heart Institute offered to bear all expenses, including post-operative care, because they too needed a case study for their heart transplantation programme.
Three months back, Hvovi Minocherhomji, 21, from Bandra underwent a heart transplant procedure at Fortis Malar hospital in Chennai. She was suffering from end-stage heart failure and transplant was the only option. She got the organ from a brain-dead person.
Dr Ajay Chourasia, head of cardiology department, Nair Hospital, said: "In a year we see more than 30-40 people who are eligible for heart transplant surgery. But in our state we don't have such programmes... till the time of undergoing transplant we put patients on medication. Now after one girl went to Chennai for a transplant, our state government too is trying to push for this programme."