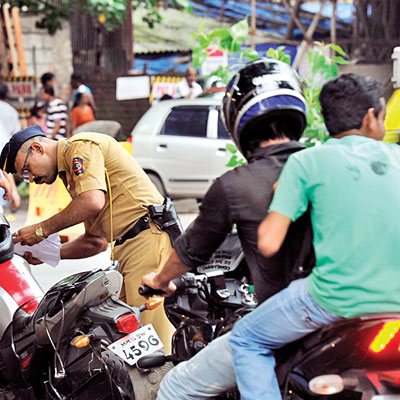 The Mumbai traffic police on Wednesday started a crackdown on bikers to bring down incidents of chain-snatching. The cops have formed teams in all 25 traffic outposts in the city to keep a check on street crimes by those bikers who violate road safety norms.
The traffic police have tied up with the local police to target the bikers. A total of 3,511 bikers were checked till 1pm and action was taken against 1,300 bikers for flouting rules under the Motor Vehicles Act.
The traffic police have identified 100 spots across the city. Each division has formed three teams comprising a police officer and four constables. These teams would be asking riders of two-wheelers to open the boots and show documents.
The teams would be posted at nakabandis set up by the local police and the drive will be conducted 8 am and 8 pm. Traffic police said that they intended to continue the drive for a few days.
"Most of the offenders in chain-snatching cases are bikers. This drive is aimed not only at cracking down on bikers for traffic violations but ensuring that they are not involved in street crimes," said a senior traffic officer.
He said checking bikes and vehicle documents will help them establish the identity a rider and whether he has a criminal intent. He added, "This will also deter them from indulging in street crimes in the future."