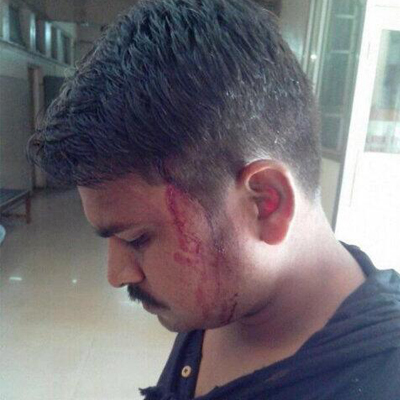 An electronic media journalist was severely beaten up by a group six people in Malad (west) on Saturday afternoon when he confronted the men for passing lewd remarks against his wife. The journalist, Sanjay Prasad, was rushed to a private hospital for medical treatment. After that a complaint was filed with the Malad police, who arrested one out of the six suspects.
According to the police, the incident occurred at around 4.30pm, when Prasad gone with his wife for shopping in Sainath Market, situated outside Malad railway station.
"Few people who were standing in a group were passing vulgar comments on my wife. Initially she ignored but when they did not stop, she told me," Prasad told dna. "When I confronted them, they raised their voice and started arguing with me," he added.
"Meanwhile, before I could react, others started kicking and punching me. They also manhandled my wife. Soon, blood started oozing from a deep cut in my head so I called my friend Rajesh Prasad, since I needed urgent medical attention," Prasad said.
Prasad was rushed to the nearby Siddharth hospital and after medical treatment filed a complaint with the Malad police. A police team immediately rushed to the spot and nabbed Vijay Bahadur, one of the six suspects in the case. The police have launched a man-hunt for the other five.
"We have booked the suspects for outraging the modesty of woman, assault, rioting and several other relevant sections of Indian penal code. We have launched manhunt and will nab them soon" said senior police inspector Ajit Surve of the Malad police station.