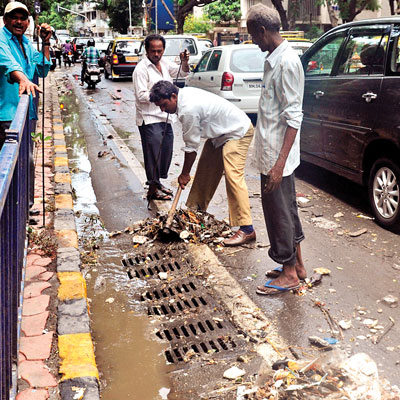 A day after unusually high tides — around 7 metres — hit city shores, Brihanmumbai Municipal Corporation (BMC) removed 64 tonnes of floating refuse that entered seafronts.
According to BMC, areas in G-north ward, which covers Dadar and Mahim, were found to be the filthiest, with removal of 34 tonnes of waste from there. In C (Marine Drive), D (Girgaum) G-south (Worli), H-west (Bandra) and K-west (Juhu, Sagar Kutir) wards, BMC lifted 6, 5, 1.5, 1.5 and 16 tonnes of refuse, respectively.
"Filth defaced Marine Drive, Worli sea face and also Shivaji Park. Immediately on receiving complaints about it, the solid waste management (SWM) department swung into action. Out of the total waste removed, 47.5 tonnes was removed on Friday itself," a senior civic official said.
With the city set to witness more than 4.5-metre-high tides on four occasions until Wednesday, BMC has decided to deploy its men, over 50 personnel, at the Girgaum, Worli, Dadar, Versova, Juhu, Aksa and Gorai beaches as a preventive measure. The personnel include one assistant station fire officer, four firemen, six national disaster response force men, 15 civic security personnel and policemen at every beach.
In addition, five security men have been deployed at the Gateway of India, and 15 civic officials from storm water drain and SWM departments and NGOs have been put to work.
"We have instructed nodal officers to be present at control rooms three hours prior to and after high tides to ensure proper coordination. These men will work for eight hours a day. On holidays, like Sunday, we are contemplating extending hours and keeping two shifts," the officer said.
BMC has also appealed to residents to avoid being close to seafronts on high-tide days. "Our men will be watchful. People will not be allowed to go anywhere near seafronts. But people too should cooperate in avoiding any untoward incident," he added.
Civic officials on Friday said neither the meteorological department nor oceanographers have any clue why the tides rose to such heights. "Officially, we are unaware of the reason... But given the amount of water entering city limits, it's high time the governing agencies sit together and figure it out," the official said.
Watch out!
High-tide days ahead...
Sunday: 4.85 metres
Monday: 4.85 metres
Tuesday: 4.74 metres
Wednesday: 4.55 metres