Civic body will aim at turning proposals into reality as it presents its annual budget today.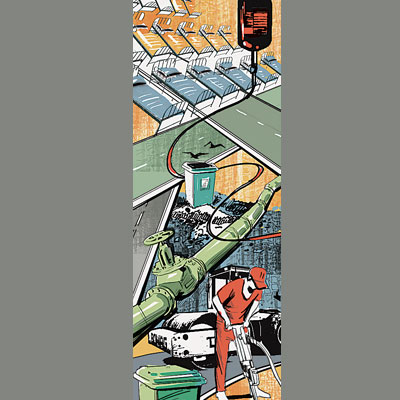 Get set to hear new promises as the BMC presents its annual budget for the city on Wednesday. As this is the year of the Lok Sabha and state assembly elections, the corporation's budget is expected to swell by around 20 per cent to a whopping Rs32,565 crore. An 8 per cent increase in water bills and 10 per cent rise in licence charges is likely to be announced in the budget presented by municipal commissioner Sitaram Kunte.
The BMC — the richest corporation in the country — will focus on presenting a budget with the aim of completing unattended and old projects. For the last three years, it has been promising world-class roads and bridges, safe drinking water, adequate number of toilets, better parking facilities, more gardens and playgrounds apart from getting rid of the hoarding menace. However, most of these plans have been delayed, resulting in cost escalation of the projects. This, in turn, is recovered from the taxpayers.
Projects announced 3-5 years ago are not even in their nascent stages. Promises made last year remain unfulfilled. The BMC, therefore, is looking at completing the job at hand instead of going in for new projects.
Poor spending during the ongoing fiscal is also a major worry. The civic body has been criticised for not spending enough for the betterment of the city.
The BMC has been talking about the development of Koliwadas and Gaothans. However, no incentives have been given for the redevelopment of old and dilapidated buildings in the city. The BMC was planning to dole out monetary benefits to owners of heritage structures, but citizens aren't happy with the idea.
The city faces a problem because of the burgeoning number of vehicles and lack of adequate parking facilities. The implementation of web-based parking at public parking lots was started in Colaba as a pilot. But it is yet to be tested over a period of time. The BMC's challenge will be to create more parking space across the city and the suburbs.
Illegal tree cutting and destruction of mangroves, along with the lack of playgrounds and gardens, have deprived the city of green lungs. The projects for pet parks and animal welfare cell still remain on paper. The BMC has been working on the modernisation and upgrade of the Mumbai zoo for the last five years. The budget size was cut and the civic chief even promised that the city will see penguins walking in the zoo by the end of 2013. But there's been no addition to the animals there.