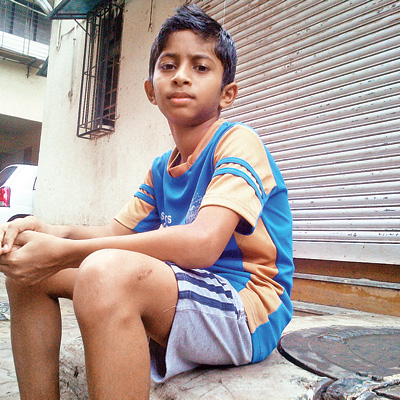 Sakhi Khamkar isn't happy about the Supreme Court suspending a Bombay High Court order restricting the height of human pyramids to 20 feet and banning persons below 18 from participating in these pyramids. Her 11-year-old son slipped and fell while going up a seven-tier pyramid on Janmashtami last year.
The boy's left foot was fractured. Doctors at Bhatia hospital had to operate the foot and insert a rod to repair the damage. As the Dahi Handi festival approaches, the mother of two is worried again.
"My son survived and his foot is healing. I have heard of cases where some have become paralytics," says Khamkar. "The high court's decision disallowing pyramids above 20 feet was very good. And young children should not be allowed to participate in the pyramids."
Bhaved, who is the elder of her two children, was at home for two months. The studies of the 6th standard student of BJPC School suffered.
It was the first time that he got involved in the Janmasthami pyramid with the Kranti Nagar Dahikala Utsav Mandal, Mumbai Central, where the family resides. The mandal was participating in a competition in Thane.
"After my boy's accident, I am very scared. I will not send my children to participate in the celebrations. The state commission for children's rights has already banned children below 12 years from participating in the pyramids. Such competition must be banned immediately," Khamkar says.
In May, Bhaved underwent surgery again to remove the rod. But that isn't any consolation and he won't be going out on Janmasthami on Sunday.
"I don't want to climb the pyramid any more. Even the mothers of my friends will not send them to participate in the celebrations. They all tell my story," says Bhaved.
Amit Kargutkar, president, Kranti Nagar Dahikala Utsav Mandal, says, "After the accident we decided to restrict the height of the pyramid. We used to go up to seven tiers, but now we will do just four or five tiers. Also, we will keep children out of this activity."
The Maharashtra State Commission for Protection of Child Rights had announced the ban following a complaint by Pawan Pathak, a resident of Saki Naka, that Govinda groups lured by big cash prizes endangered the lives of the children who were involved in this activity.