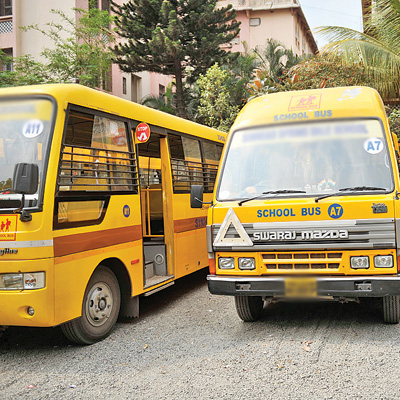 Most schools in the city don't hold meeting of the school bus transport committee though they are supposed to as per the new bus policy for safety of children being ferried in school buses. Higher officials from Mantralaya's education and sports department will soon send reminders to schools asking them to hold these meetings at least once in three months.
In July, education inspectors were asked to find out how many schools had formed school bus transport committees. Officials in transport department have now told the education dept that most schools don't hold meeting of the committee.
Rajendra Pawar, deputy secretary, school education and sports dept, said: "We were told by transport dept officials that schools don't conduct meetings on school bus safety. We are now going to send letters to schools asking them to conduct the meeting of the committee, which comprises parents and school management, education dept officials at least once in three months."
When did schools receive circular on the panel?
Schools received the circular from the education dept on August 20. They are now busy forming the committee which has to include several officials, said Anil Garg, chairman, school bus owners association, Maharashtra.
Why the delay in forming the panel?
Reportedly, the main reason why schools had not formed the committee was that in case of an accident and children were injured, the school principals would be held responsible if the committee was in place. Most of the schools had also refused to form the committee as they wanted the govt to first ban small vans ferrying children to school. The government has given permission to Maruti vans to ferry students.
Why will some schools not constitute the committee?
Most schools are in the process of forming school transport committees. Those that have not constituted the committee may not have buses to transport students. Children come to and go from such schools probably in autos or Maruti vans, said Prashant Redij, spokesperson, Maharashtra Principals Association.