Film producer Dinesh Gandhi got killed after being hit by a fireball, reveals probe.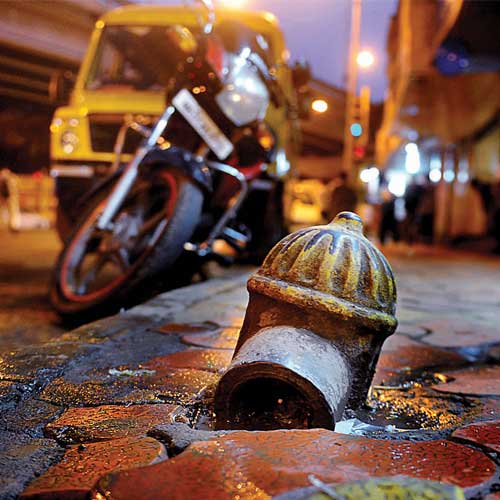 An inquiry by the fire brigade into the massive fire at the Mont Blanc skyscraper in Kemp's Corner on Friday night has revealed that the conflagration was caused by an electrical short circuit in the master bedroom of apartment no.121 on the 12th floor.
The flat, which was under renovation at the time, was occupied by six workmen. As soon as they spotted the fire, one of them fled from the flat. However, the supervisor led the remaining four workmen to another room and locked it from the inside.
While the five escaped miraculously, others were not so lucky. Combustible material like thinners and paint, coupled with wind blowing in through the open windows, resulted in the spreading of the fire.
The blaze was so powerful that it reached the common passage and set fire to two LPG cylinders kept in the common passage in front of film producer Dinesh Gandhi's flat (no.122)
Deputy chief fire officer PS Rahangdale told dna on Sunday that the explosion of the gas cylinders resulted in a huge fireball. When Gandhi opened the door of his flat to find what where the loud explosions were coming from, the fireball hit him, instantly causing his death.
Meanwhile, two of Gandhi's servants decided to seek shelter in the bathroom, where they died of suffocation caused by the thick smoke that had entered the flat.
Gandhi's wife Devyani, who was in the garden below the at the time of the incident, chose to take the lift up to her apartment when she saw the fire. However, as soon as the door of the lift opened on the 12th floor, the flames engulfed both her and the liftman.
Fire officials said the residents could have used the riser system (special water pipes connected to all floors) installed in the building, but didn't.
"The residents seemed to be unaware about the use of the riser system and panicked, which led so many deaths in the tragic incident. Had the residents known about the fire safety measures to be taken, the deaths could have been prevented," said a fire officer.
The Mumbai fire brigade is yet to set up a communication cell, which was proposed last year, to create awareness amongst residents about fire safety and maintaining information regarding location, area and names of housing societies. S Nesarikar, deputy chief fire officer said, "We are fast-tracking the proposal and the efforts are on to set up the cell in the next couple of months."