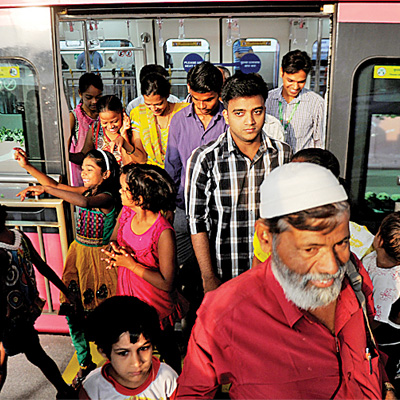 A day after dna reported two earlier instances of the monorail's doors suddenly opening mid-journey and putting passengers' lives at risk, the Mumbai Metropolitan Region Development Authority (MMRDA) on Wednesday admitted that there was a fault, but also cautioned passengers against fiddling with train doors.
The latest incident occurred on May 23, when captain Rohan Sawant was piloting the rake. According to a source, one of the doors on the four-coach-long train opened while the train was in between two stations. No one was hurt, however, passengers were not asked to de-board at the next station. The RST (Rolling Stock train) 7 rake was immediately brought to the operations control centre.
A similar incident occurred at Chembur station two months ago. The doors on either sides of RST 8 opened.
Speaking about the May 23 incident, an MMRDA official who did not wish to be named said that passenger interference was a possibility. "Passengers tend to fiddle with the equipments inside, which they should avoid," said the senior development authority official.
However, the officials did not deny the incidents reported by dna. "A fault has been identified and our team has been working on it," said an official. However, he added that the problem was not related to the monorail system. "Everything of the monorail system is within the safety parameters set and is being done with due diligence," he said.
The Mumbai Monorail is India's first. A few other cities like Delhi, Indore, Chennai and Kozhikode may soon follow suit.
Currently, the first phase of the Mumbai Monorail is being used by the public between Wadala depot and Chembur since February this year. Construction is underway to extend the same up to Sant Ghadge Maharaj Chowk or Jacob Circle from Wadala depot, which is another 10 kms.