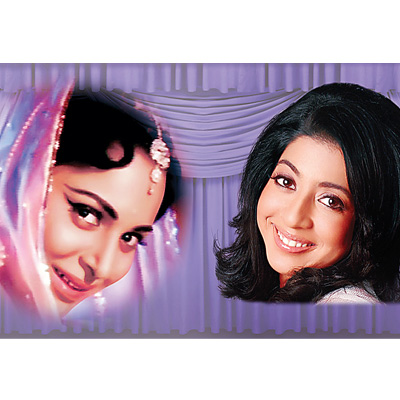 Playback singer Sanjeevani Bhelande, known for songs like Chori Chori Nazrein Mili (Kareeb), Nikamma Kiya (Kya Dil Ne Kahaa), Yara Rab Russ Jaane De (Socha Na Tha), will sing scintillating songs of the living legend, Waheeda Rehman at a special concert where the legend herself will be present.
Melodious hits like Piya Tose Naina Laage Re, Raat Bhi Hai Kuch Bheegi, Waqt Ne Kiya, Tu Chanda Main Chandani, and Choudhavi ka Chand, will be among other songs that will be sung by Sanjeevani who is also known for her album 'Meera and Me.'
Accompanying her is renowned playback singer Suresh Wadkar, who will sing evergreen male playback songs filmed on Waheedaji like Choudhavi ka Chand, Tum Pukarlo, Yeh Nayan Dare Dare and join Sanjeevani for duets like Gaata Rahe Mera Dil, Parbatonke Pedonparr, Sawan Aaye, Chala Bhi Aa among others.
Padma Bhushan Waheedaji, the legendary actress and danseuse, who will share some of her memoirs with the audience at this unique musical evening told dna, "It's an honour that people still want to hear these songs. It's humbling to see such a response. I think the credit should go to the composers, lyricists and singers of that era, who had put in so much effort into each and every song."
A 30-piece live orchestra with original acoustic instruments like sitar, santoor, flute, violin, mandolin, etc, will play the original score.
Sanjeevani, who has done over a 1,000 live concerts worldwide, "Waheedaji being an accomplished dancer has been fortunate to have got melodically rich numbers composed by music directors like SD Burman, Jaydev, Hemantkumar, OP Nayyar, Naushadsaheb, Laxmikant Pyarelalji, and Khayyamsaheb. Her grace and dignified presence are unmatched."
Echoing her Wadkar too said, "To get to sing such unforgettable melodies is anyways special. But this becomes more so because its in the presence of Waheedaji herself."
It was filmmaker Vidhu Vinod Chopra, who had given Sanjeevani her first playback opportunity in the film Kareeb. Her songs Chori chori nazrein mili and Churalo na dil mera sanam, ensconced Sanjeevani's sweet-sensual voice in the minds of listeners. She had won awards and nominations for this song.
(At the Nehru Centre on Saturday, September 6 at 7pm)