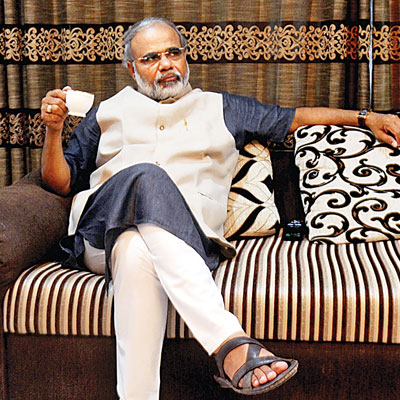 Oh my God! Is that Modi? People rush towards him, to touch his feet and kiss his hands. Some would even try to click a selfie and upload it on social networking sites. But as they get closer to him they realise there is something different about this Modi. That's correct, 'this Modi', is not the Narendra Modi – BJP's prime ministerial candidate.
Meet Vikas Mahante, 52, a Malad resident, who runs a packaging business in Vasai. Mahante not only bears striking resembles to Modi but claims to have many things in common with the Gujarat CM, which includes a RSS lineage, OBC background, love for poetry and of course, a name (Vikas), which resonates with Modi's pet theme of development. grew a beard to "change his personality" few years ago, coincidentally at a time when Modi's 'wave' had just begun flowing.
Mahante not only campaigned for the BJP and Shiv Sena candidates in Maharashtra but was also asked to visit other state for party leaders like Arun Jaitley.
Modi's doppelganger has also received feelers for roles in films and advertisements thanks to his Modi face. It was only few years back that Mahante started to grow his beard. "After that, the way in which people saw me changed as I resembled him. People would get photos clicked with me and some would fall at my feet," said Mahante, adding that "crores of people see that face (Modi) with respect."
Later, the Modi fan thought of using his face for the benefit of the Lok Sabha candidates of the Shiv Sena and BJP-led 'Mahayuti'. "Modiji cannot go to the common man," he said, adding that a director, who took him along to a celebrity 'Rangapanchami' celebration where he was noticed by the media, later introduced him to a Sena leader, who utilised him for Sena candidate from south Mumbai, Arvind Sawant's rally where he received a good response. After this, invitations for political canvassing started flowing in and Mahante started addressing around four rallies a day with a hectic schedule.
"A change is necessary. The common man is suffering," said Mahante, making a pitch for Modi as the PM and crediting his family including elder brother Hemant, mother, wife, and two sons, for being his support systems during hectic times.
"Crores have faith in him (Modi) including myself. If we see what governments have given us in the past, the opinion is largely negative. Everything is being hollowed out by inflation, communal riots... a slack economy and corruption.
Mahante had met Modi last year at Gandhinagar at the intervention of BJP MLA from Valsad in Gujarat, Ramanbhai Patkar, for whom he had campaigned in the assembly polls. "He asked me how I would do prachar (campaign)... I wanted to discuss things with him. But, his personality is such that I went speechless," gushed Mahante.