Super-talented techpreneurs don't always rely on a school or college degree, says Shraddha Uchil after meeting two 'home-grown Zuckerbergs' who fought India's rigid education system and societal pressure to forge new paths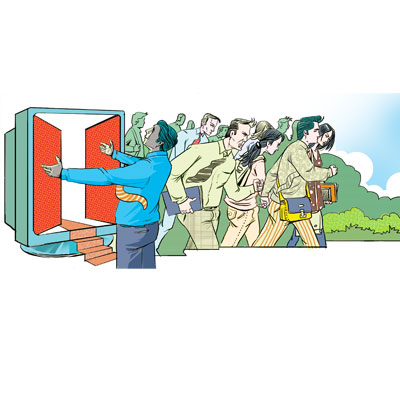 We all know the tech trio who dropped out of college to change our lives. Steve Jobs quit Reed College to help transform Apple into the empire it is today, Bill Gates left Harvard and founded Microsoft and the third, Mark Zuckerberg, created Facebook. Inspiring stories all, adding to the list of geniuses like Albert Einstein and Isaac Newton who struggled with their studies. Unfortunately, these stories of legends past and present have little resonance in India, where the rigid education system still makes it difficult for those without a degree to find jobs. And then there are taunts from neighbours and extended family. But every once in a while, India produces its own Zuckerbergs, two of whom tell us how they went from being "duffer" dropouts to genius techpreneurs.
Shashank Chourey
The 27-year-old was brought up by indulgent parents in a middle-class Brahmin home in Indore. Scarcely did anyone imagine that the boy would give up his studies to become a hacker. But he did, only to follow a path no one expected him to.
Today, his company, India Infotech, which is based in Indore and deals with internet marketing and search engine optimisation (SEO) among other things, has an annual turnover of over Rs5 crore, having grown 10,000 times in five years.
Shashank's love for computers began when he was in Class 9. "The internet was just becoming big in India, with the popping up of Yahoo Messenger and Yahoo chat rooms. It was also a time when hacking was something every other guy wanted to learn, and I was no exception," he says.
Keen on learning everything he could on the subject, he approached professional hackers on chat rooms and asked them a lot of questions, which they would gladly answer. His first break came when he was in his first year of engineering, when he found crackpal.com, which would pay $50 to hack into an email ID.
"During that time, I hacked into over 40 Indian government websites and 100 big corporate websites in less than 18 minutes. I knew that these websites were vulnerable, so I sent a report with this information to both the Indian Computer Emergency Response Team (CERT-In) and the National Informatics Centre, but they weren't interested at all," Shashank says.
Dejected but adamant on using his hacking skills for the larger good, he went on to work as an official consultant with the Indore police department. "But I found there wasn't much to do apart from a few cases about fake Orkut profiles and harassment on online chats. So I quit after two years."
By this time, Shashank had stopped taking interest in his studies, hardly going to college. "During my second year of engineering, I didn't even appear for my exams, and after that I never went back," he says.
While his family didn't give him much grief for following his heart, his neighbours didn't miss a chance to chastise him. "I guess my family was pretending to be happy with my choice. After all, any parent would be worried if their only son didn't complete his studies and, moreover, was doing something called hacking, which most people almost immediately associate with cyber crimes."
But never once has he regretted his decision. "The quality of education we used to get and I believe students still get does not prepare them for the real world. Those who finish college and start working end up having to unlearn and relearn everything to fit their job requirements. Everyone is so obsessed with getting a degree that they don't care where they are investing those three-four years and whether what they are getting in return is even worth it."
For a while, Shashank worked as a consultant on the Deep Web, getting hired by a few Fortune 500 companies indirectly and a couple of international governments.
On the Deep Web, you can do a plethora of things — buy weapons, drugs or hire a hitman, in addition to legal things. "I used to make sufficient money selling my services, but after a point I realised it was getting too risky to continue."
The Deep Web is also home to 'Anonymous', the hacker group believed to be the right wing of WikiLeaks. Its operations gave birth to the term "hacktivism". "I devoted my skills to their operations — Occupy Wall Street being one — hoping to help people. Thousands of hackers from around the world participated in these movements to do their bit," Shashank adds.
Shashank tried his hand at everything there was to try, but none of these brought him satisfaction or stability, professional or financial.
After dropping out of college and in need of money, Shashank did the unthinkable. He hacked into a big company's client websites, and proposed that it tell clients that their websites were vulnerable. He went a step ahead and sold his web security consultancy services to the company, only to be hired then and there.
"I worked there for a year-and-a-half, before quitting to take up a more lucrative offer from another company in the city. Unfortunately, we never got paid, and 45 days later, I walked out with Rs5,000 in my pocket," he says.
"On February 23, 2009, the very day I had quit my job, I started looking for work online. I collected money by working on small data entry jobs day and night. After a month, I had managed to collect Rs20,000.
With this money, I bought another computer, recruited a friend and got more work. A month later, we bought a third computer and roped in another friend. And India Infotech was born."
Shashank believes he saved a lot of time by not trying to get a degree. But dropping out is not a decision to be made impulsively, he cautions. "It's not about dropping out of college and sitting idle at home. I still study, I never stopped. It's about studying what you want and learning what will benefit you."
Shirish Hirekodi
"I was totally fascinated with computers, but morbidly disinterested in academics," says 40-year-old Shirish Hirekodi, the brain behind music streaming app Twaang and what we'd like to call a dropout genius.
Growing up in Belgaum in northern Karnataka in the 1980s, a young Shirish happened to lay his hands on a book, Sinclair Spectrum, which sparked his love for computers and how a few lines of code could make them undertake so many tasks. However, it was an era when access to computers was rare and his interest lay dormant.
Shirish did quite poorly in academics after Class 3, and finally decided to drop out before he completed his Class 12 in Bangalore, where his family had shifted to from Belgaum. This was the early 1990s, when dropping out of school was almost unthinkable.
However, his parents stood by him. Although initially aghast at his decision, they eventually accepted it and supported him. "I then bought an ancient computer. A coder I knew, Srinivas Sharma, helped me learn C programming. Learning became a full-time occupation because the distraction of studies was no longer there. It was delightful to examine and utilise everything related to programming," he says.
"I wrote many applications to push the boundaries of my knowledge. One of the applications was a vector-graphics drawing tool which eventually helped clinch my first job." Shirish thus started working for an industrial automation company, Century Systems, as a trainee.
After honing his skills at Century Systems for a while, he got an offer from a Palo Alto-based software start-up firm Agitar. However, the company soon got acquired and Shirish was left jobless. Far from deterring him, this only led him to push harder and land a job with Reliance Telecom. "I was part of the team that helped them improve their billing printing system. The one they had in place could handle about a million clients. And Reliance has a lot more than a million clients." But this job required him to shuttle between Hyderabad and Pune, keeping him away from his family. So he quit and came back to Bangalore, and Twaang was born.
A mobile music library for Indian music lovers around the world, Twaang provides legal, high quality music on-demand, on-the-move. With over 90,000 music titles, 6,000 albums and 4,000 artists, Twaang brings the largest collection of non-film Indian music across genres — classical, fusion, contemporary, live concert recordings and more — to smartphones.
The idea for the app came to Shirish when his long-time friend and Twaang founder Vishnu Raned one day left his iPod behind. "Vishnu was fed up with modern day music. He was also someone who'd never be seen without his phone. So we thought, why not make a music streaming app on a smartphone? He asked me to give it a shot, and the result was Twaang." Today, Twaang has over one lakh users worldwide on the Android platform; Twaang is targeting two million users by 2015.
His journey so far has been one of learning. He says, "I can't imagine being happier doing anything other than coding and building a software product. So I'm doing what I love to do." Was his lack of a degree ever a stumbling block? Yes and no, Shirish says. "Many software shops where the minimum mandate is graduation are no-go, but then I still got to be where I want anyway."
Although an anomaly in the education system himself, Shirish believes the world would be chaotic without such systems in place. "They are a must for societal functioning. And people who don't fit into such systems will find another perhaps harder way, but they will."
Explaining further, he says, "My wife is a college topper. She just could not have done without systematic formal education. I'm totally in favour of academia. However, shouldn't one find joy in learning, and not be slave to marks?"