2011 firing justified till the point agitators dispersed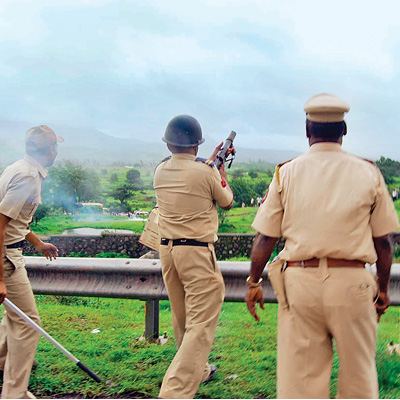 Maval is back in the limelight. Three years after a police firing killed three people, including a woman, and injured many in the area, an inquiry committee has submitted its report – part-justifying and part-blaming the police.
The firing took place on August 9, 2011, after around 2,000 farmers blockaded the Mumbai- Pune expressway at Maval in Pune district, protesting against the laying of a pipeline from the Pavana dam reservoir to Pimpri-Chinchwad Municipal Corporation (PCMC). The agitators' contention was the scheme would hit irrigation and water supply to villages in Maval taluka.
Later, when it came to light that police had actually fired upon agitators who were dispersing, it created a public uproar and led home minister R R Patil to promise an inquiry by a retired high court judge.
The one-man M G Gaikwad committee that probed the incident now says that police firing was justified till the time the mob dispersed. But firing "after the dispersal of the mob on the south of the expressway when there was no imminent danger to life or property, is not justified".
The report singled out then Pune SP Sandeep Karnik, police inspectors Ashok Patil and Yashwant Gawari and sub-inspector Ganesh Mane for the "unjustified" firing.
Evidence from police officials show it was Karnik who opened fire first, it said. He should have been clear about the number of rounds to be fired, should have given precise orders and ensured his orders were not exceeded, the report said.
"Proper procedure under the Police Manual was seen not to have been followed... firing by the police in their right of private defence is justified, except opening of fire by SP Shri Sandeep Karnik, PI Ashok Patil, PI Yeshwant Gawari and PSI Ganesh Mane at the end as stated above," the report reads.
However, no agitator sustained injuries, it said.
"Moreover, the act of police intentionally damaging parked vehicles with sticks, kicks etc are highly diprecatable (sic). This becames (sic) clear as sun shine from the video recording," the report said.
The government has already said that it will initiate "administrative action after following due process of law" regarding the report.
On incidents like a minibus being pushed on to PI Ingawale, who was lying injured, and the agitators' attempt to set afire an SRPF van that sheltered some officials, it said "there was no alternative to the police, but to resort to firing of plastic bullets and live bullets."
"...any prudent man would have definitely been felt (sic) that the situation was too dangerous to the lives of the police and SRPF jawans and the public and private properties...,"it noted.
"(In) totality, the above situation makes it clear as sun shine that despite use of lathicharge and tear smoke, the mob was beyond control... The situation certainly entailed the police, as a last resort, to open fire," said the committee, adding firing was justified in this case.