Marijuana, cocaine, heroin. Whatever your trip, it is in free supply on city streets. dna does a sting-op and confirms its worst fears.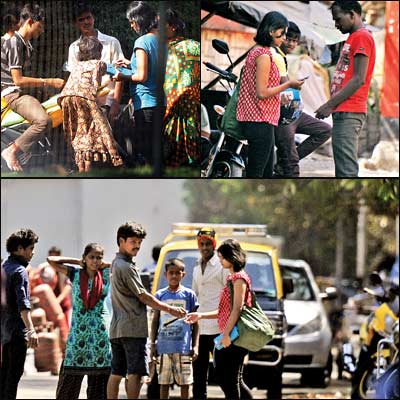 dna bought drugs without any difficulty from Juhu, Khar, Worli and Malad over the past couple of days. So, what about the police? That is the last thing in the minds of peddlers. In fact, some even assured us we need not worry about the police because they have been "taken care of".
Near Hotel Sea Princess, Juhu Tara Road, Juhu
The area is dotted with posh flats, bungalows and restaurants. By the roadside near the hotel, sat seven-eight members of a family who have been selling drugs to college students, corporate executives and businessmen for years. They sell it like how they sell veggies. As one of members who calls himself Raju eagerly briefed us about the drugs, he admitted the place is a hub for junkies.
"Earlier, we used to sell from our huts. Now it's more open. We pay off the local cops. They too are our customers. Nobody here minds," said one of the women.
The family has charas, ganja and even cocaine on offer. Drugs can be bought even on instalments. "We have the white powder (cocaine) that costs Rs4,500 per gram. Besides, we have charas that costs anywhere between Rs300 and Rs10,000 depending on the quality and quantity," Raju said. "Ganja is most popular among students and office-goers because it is cheap. We are more popular than the Bandra peddlers."
Raju gave dna a packet of ganja (about 5g) for Rs200. While giving his phone number he said he could even deliver drugs at home, if needed.
15th Road, Khar West
A group of people from Tamil Nadu and Kerala sat near the shanties along the streets. They are peddlers. And the moment you step into the lane, you are surrounded by them. They have keywords for various types of charas — Kerala gold, Bombay black and Manali.
Giving a small packet of Kerala gold for Rs300 — it is supposed to suffice three joints — a peddler who calls himself Venkatesh said: "We have various types of charas... The costliest is Rs20,000. We get them from Nashik and Pune. We have many customers. We fear the cops, but we have good a network around the area. People come in cars before parties and buy from us in bulk. It's a viable business."
They make a profit of about Rs2,000 daily and it goes up during the festive season.
Near Sacred Heart High School, Worli
A group of peddlers sat in the open lane near the school. Frequented by college students and executives, the place is a hub for junkies.
People openly sell ganja, charas and brown sugar. "We don't earn much. We have to bribe officials and then give our commission to a network of people in the supply chain," a peddler said. "At the end of it, we earn a few hundreds daily. There is a big network that operates. We have no idea who the big players are. For us, this is our livelihood."
He went on to say that there are several peddlers around Worli who make a killing out of this. My family and I started just a few months ago. "We have earned a lot of regular customers in three months," he said. The man sold dna a small packet of ganja for Rs250, albeit after some haggling.
Goregaon Mulund Link road, near Inorbit Mall, Malad West
In the middle of high-rises, dna found a woman in her 40s beside a paan stall. She is a well-known peddler in the area who sells ganja to hundreds of people every day.
But the day dna visited, her stall was closed. "There's a police raid," she said. "I have to wait for another day before opening the shop. There are cops... but I have the stuff at home. Ganja costs anywhere between Rs150 and Rs250."